Big Updates Coming to Walt Disney World in 2024
Reading Time:
3
minutes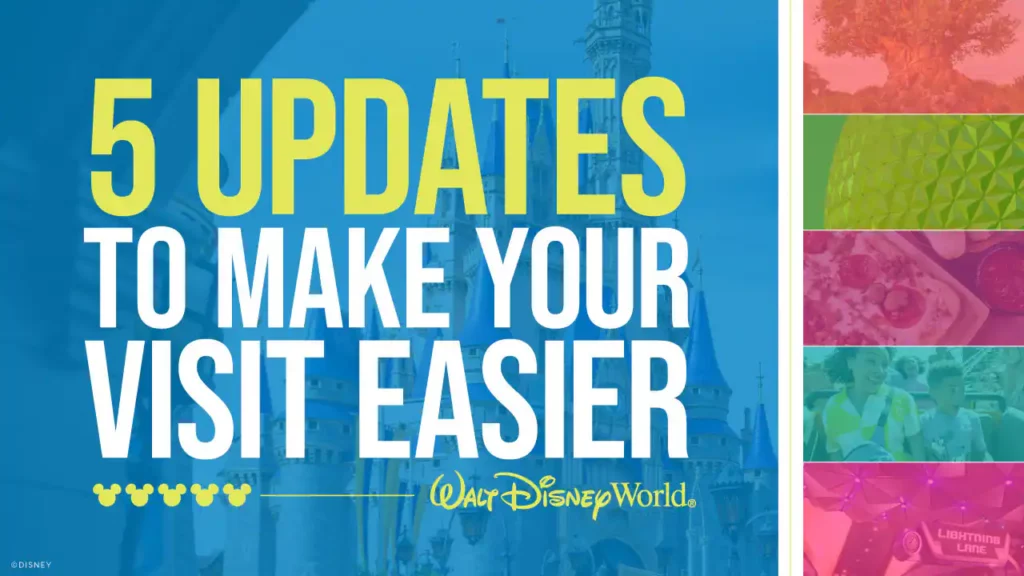 A visit to Walt Disney World is an experience like no other, filled with magical moments that stay with us forever. From the immersive environments of Disney Resort hotels to the tantalizing aroma of iconic Disney treats, every detail contributes to creating memories that last a lifetime. Disney values your feedback and strives to make your visit even more extraordinary. That's why they have recently introduced updates to enhance your guest experience, including the return of complimentary overnight self-parking, new features in the Disney Genie+ service, and more. And now, as we prepare for the launch of 2024 bookings, Disney is thrilled to share some exciting news that will make planning your future visits simpler and more enjoyable. Let's dive into these updates as they are sure to make your next Walt Disney World adventure even more magical.
Removing Theme Park Reservation Requirements for Date-Based Tickets
Starting from January 9, 2024, you'll no longer need to make theme park reservations for date-based tickets. This means that when purchasing your ticket, you simply select a start date for January 9, 2024, or later, complete your purchase, and you're good to go! Date-based tickets are the standard ticket option, and this change allows you more flexibility in planning your park visits. It's important to note that for other admission types, such as non-dated tickets, theme park reservations may still be required to manage attendance effectively and ensure a fantastic experience for everyone. Before making your purchase, you can check the www.DisneyWorld.com/ThemeParkReservations website to see if park reservations are necessary for your chosen admission type.
Introducing "Good-to-Go Days" for Annual Passholders* and Cast Members
In 2024, Walt Disney World plans to introduce "good-to-go days" for Annual Passholders* and Disney cast members. On select days, these special groups will be able to visit the theme parks without needing a park reservation. These good-to-go days will be available on an ongoing basis and will provide added flexibility for Passholders and cast members to enjoy the parks. However, please note that pass blockout dates and capacity limitations will still apply. Stay tuned for more details on these exciting opportunities.
Bringing Back the Beloved Disney Dining Plans
The highly anticipated news is here—Disney dining plans are making a comeback! Starting with stays beginning on January 9, 2024, guests staying at Disney Resort hotels and purchasing vacation packages will once again have the option to include a Disney dining plan. Families, in particular, have missed the convenience and peace of mind that dining plans offer, allowing them to pre-pay for meals and snacks. You can choose from two popular options: the Disney Quick Service Dining Plan or the Disney Dining Plan. Both plans provide exceptional value, especially for families with young children, with access to a wide range of delectable food and beverage offerings across Walt Disney World.
Continued Benefits for Disney Resort Hotel Guests
Disney understands the importance of making your stay even more magical, and they will continue to provide extended park time to Disney Resort hotel guests. Early theme park entry will be available every day, across all four theme parks, giving you a head start to enjoy your favorite attractions. Additionally, for guests staying at Disney Deluxe Resorts and Deluxe Villas, extended evening hours on select dates at select parks will be offered throughout 2024. Remember to have valid theme park admission and a Resort ID to take advantage of these wonderful benefits.
Simplifying the Disney Genie+ Experience
Disney has listened to guest feedback and is working on ways to enhance the Disney Genie+ service. They understand that guests would like the ability to plan with Disney Genie+ and individual Lightning Lane selections before their park visit. While specific details are yet to be revealed, the goal is to minimize planning time inside the park, allowing you to spend more quality time enjoying the magic with your loved ones. Stay tuned for further updates on this exciting development.
As you eagerly anticipate your next visit to Walt Disney World, these updates and enhancements are sure to make your experience even more incredible. From the removal of theme park reservation requirements for date-based tickets to the return of Disney dining plans and ongoing benefits for Disney Resort hotel guests, the magic continues to evolve and exceed expectations. Disney values the uniqueness of every guest's experience and is dedicated to creating moments that will stay with you forever. Get ready to make unforgettable memories as you embark on your next Walt Disney World adventure. The countdown begins, and Disney looks forward to welcoming you real soon!