2024 runDisney Springtime Surprise Weekend Theme Announced
Reading Time:
2
minutes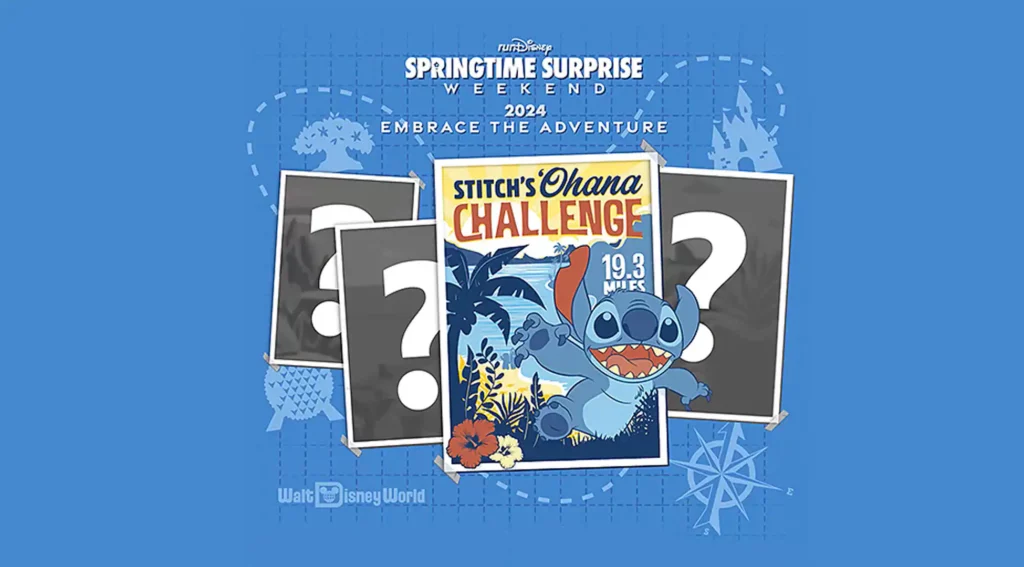 Calling all runDisney enthusiasts and fans of Experiment 626, the lovable troublemaker from outer space! Today is a day filled with intergalactic excitement as we celebrate Stitch Day, also known as June 26. With Stitch's mischievous nature, you can expect surprises around every corner. And speaking of surprises, we have one of our own to share: the challenge theme for the highly anticipated 2024 runDisney Springtime Surprise Weekend! Get ready to embark on an extraordinary adventure as we introduce Stitch's 'Ohana Challenge, a captivating event inspired by Disney Animation's beloved film, Lilo & Stitch. Lace-up your running shoes, because this is one challenge you won't want to miss!
Embrace the 'Ohana Spirit
During the runDisney Springtime Surprise Weekend in April 2024, participants will have the opportunity to take part in thrilling races, encounter enchanting characters, and embark on magical journeys throughout the Walt Disney World Resort. The highlight of the event is Stitch's 'Ohana Challenge, where participants will conquer all three races of the weekend—the 5K, 10K, and 10-Miler—and earn a special medal that celebrates the joy of togetherness. Inspired by the heartwarming bond between Lilo, Stitch, and their 'ohana, this challenge embodies the spirit of unity, friendship, and adventure.
A Magical Experience for Everyone
The 2024 runDisney Springtime Surprise Weekend is an extraordinary opportunity to create unforgettable memories with your loved ones. Whether you're a seasoned runner or a first-time participant, this event offers something for everyone. So gather your family and friends, and prepare to embark on a once-in-a-lifetime experience that combines the magic of Disney with the thrill of running. It's a chance to strengthen bonds, share laughter, and create stories that will be cherished forever.
Stay Tuned for More Surprises
As we prepare for the 2024 runDisney Springtime Surprise Weekend, there are even more surprises in store. Keep an eye out for the full reveal of the beloved characters from various daring Disney tales who will be joining us during the race weekend. From classic favorites to exciting newcomers, these characters will add an extra dose of enchantment to your running journey. So get ready to be amazed and delighted as you cross paths with some of Disney's most iconic friends.
Prepare for Adventure
In the spirit of Stitch's love for adventure, start getting ready for the 2024 runDisney Springtime Surprise Weekend. Practice your running skills, gather your costume ideas, and most importantly, have fun along the way. Don't forget to grab a pre-race peanut butter sandwich for good luck (after all, Pudge controls the weather!).
The 2024 runDisney Springtime Surprise Weekend promises to be an extraordinary celebration of running, friendship, and Disney magic. With the introduction of Stitch's 'Ohana Challenge, you'll soar to new heights as you conquer all three races and earn a medal that symbolizes the power of togetherness. Mark your calendars, assemble your crew, and prepare for an adventure like no other. Stay tuned for more surprises and event details, and get ready to experience the joy and wonder of the runDisney Springtime Surprise Weekend!