I like Warm hugs
Ultimate Disney Character Meet 'n Greets Guide
Are you getting ready to head to Disney World? Looking to meet your favorite Disney Characters? Then you've come to the right place! Let's dive into this Disney Character Meet 'n Greet Guide!
Before diving into the Disney Character Meet 'n Greets world, please be aware that the following info could reveal some of the "Disney magic". I always try to avoid spoiling any of the Disney magic, but this is one of the topics where some things will have to be revealed to provide the best information.
Who Are These "Characters" Anyway?
Characters are our beloved animated buddies from Disney movies and shows, brought to life!
Ever dreamed of meeting Mickey or giving Elsa a high-five? Well, you definitely can at Disney World! They're everywhere you turn – from surprise pop-ups to grand stage shows. And guess what? There are two main types:
Fur Characters
Think Mickey, Minnie, and Goofy. They're usually the cuddly ones with big heads (literally!).
Face Characters
These are our real-life looking pals, like Cinderella or Captain Jack Sparrow.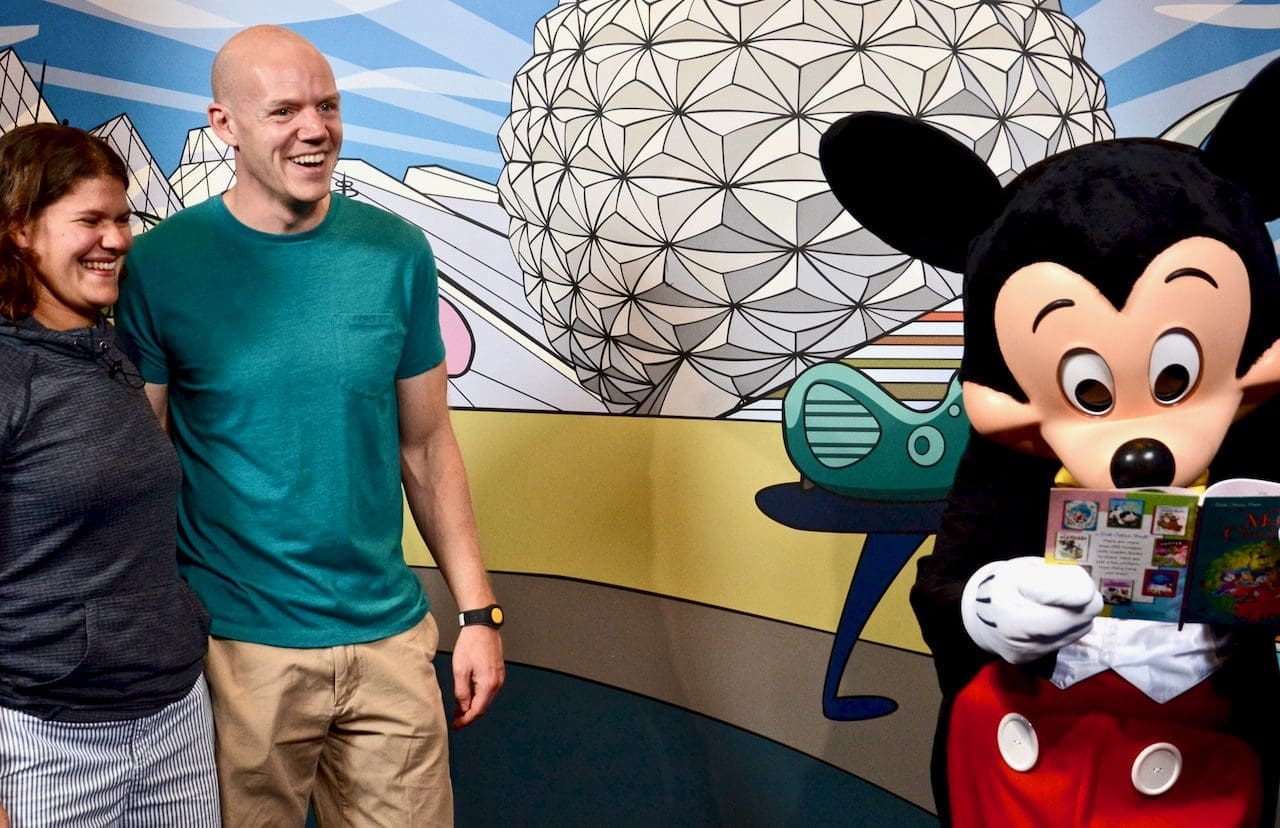 What You Need to Know For Disney Character Meet 'N Greet
Disney Character Meet 'n Greets are the pinnacle of Disney magic.
Early bird catches the Disney character! Wait times are the shortest earlier in the day. Check the My Disney Experience app to see when the character meet 'n greet begins. Arrive at least 15 minutes before the opening time. Trust me; it's worth the effort.
Make sure your cameras or phones and autograph books are ready to capture those precious moments. You wouldn't want to miss Mickey's autograph, would you?
When it's finally your turn to meet the characters, don't be shy—let your inner Disney spirit shine! Engage in conversations, ask questions, and show your excitement. These characters are experts at making everyone feel special.
Photos are the ultimate souvenirs of your character meet 'n greet experience. Make sure you bring a quality camera/phone or take advantage of Disney's Memory Maker service for professional shots.
Be sure to bring a sturdy autograph book and a good pen or marker. Make sure to take the cap off before handing the character the pen or marker. Most of the characters prefer to use a marker (I recommend a Sharpie in your favorite color).
Disney World is a dynamic place, and sometimes plans may change due to unforeseen circumstances. Embrace the Disney spirit of adventure and go with the flow. If a character you were hoping to meet is not available at a certain time, don't fret. There are plenty of other magical experiences waiting for you.
With so many characters to meet and limited time, it's essential to prioritize your must-meet characters. Identify the characters that hold a special place in your heart and plan your schedule accordingly.
Using Disney Genie+ For Disney Character Meet 'n Greets
It's like having your own Genie to grant your wishes for a smoother Disney experience.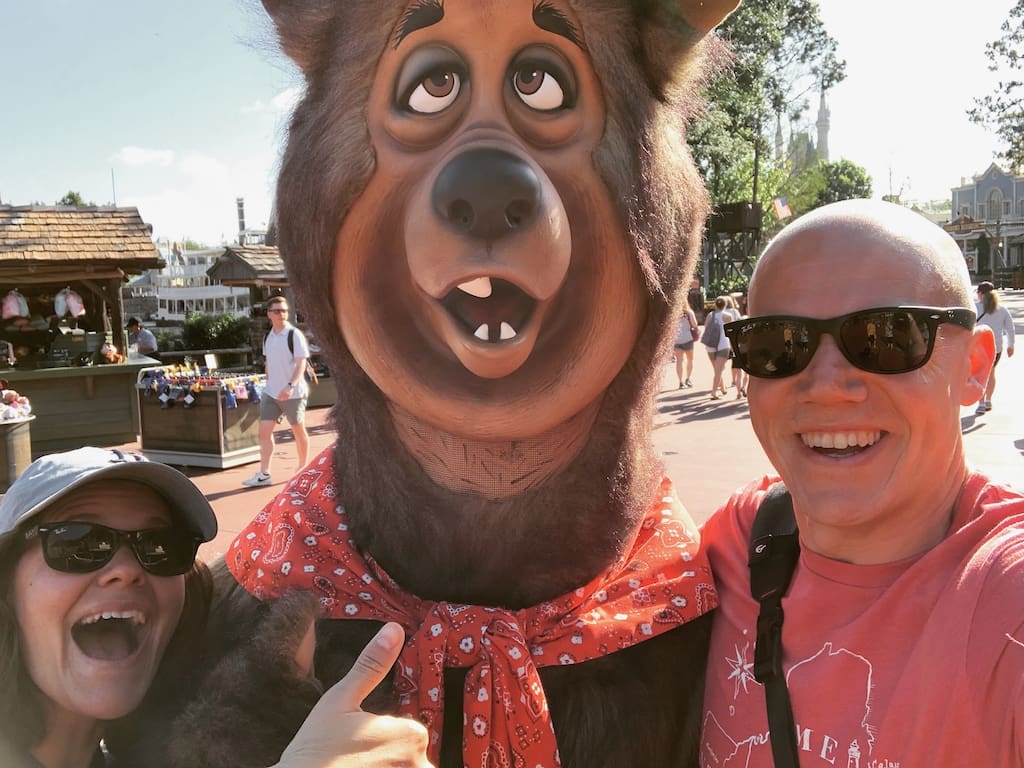 Express line to meet Mickey
Is Disney Genie+ Needed for Character Meet 'n Greets?
Disney Genie+ is Disney's pay-for-service that allows you to access Lightning Lanes for select attractions and character experiences. This service not only saves you time but also grants you access to shorter lines for character meet-and-greets. For more info on Disney Genie+ CLICK HERE
Disney Genie+ Strategies (includes characters)
Genie+ is not a must for enjoying the parks or meeting your favorite Disney Character. Many times I do not use Disney Genie+ to meet characters.
YOUR MAGICAL MAP TO DISNEY CHARACTER FUN
Let's look at how My Disney Experience is the perfect Disney Character locator.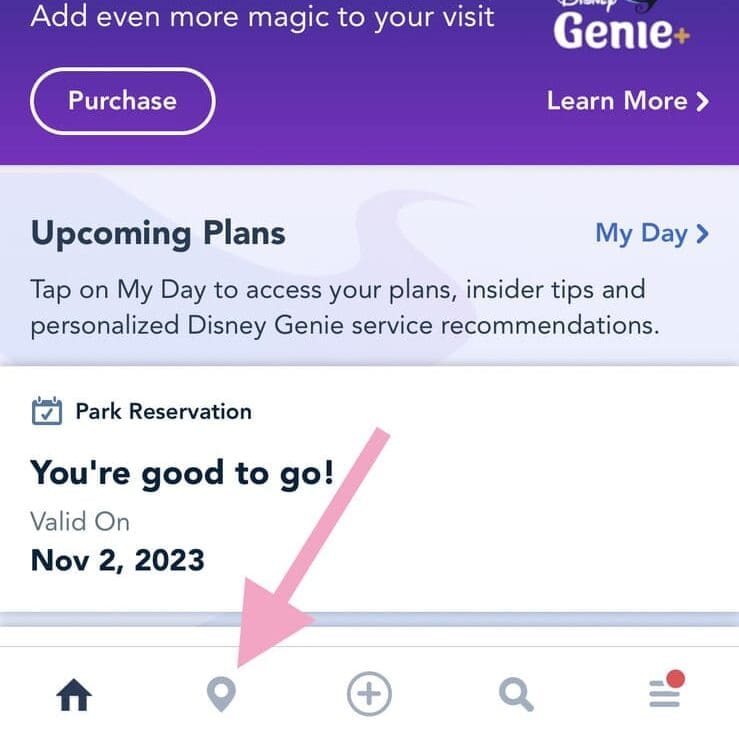 STEP ONE
Open My Disney Experience
If you haven't already, download the My Disney Experience. It's your ticket to all the fun at Disney World.
From the home screen, find the "Map Pin Icon" at the bottom of the screen. Click on it. That's your gateway to all the Disney World maps.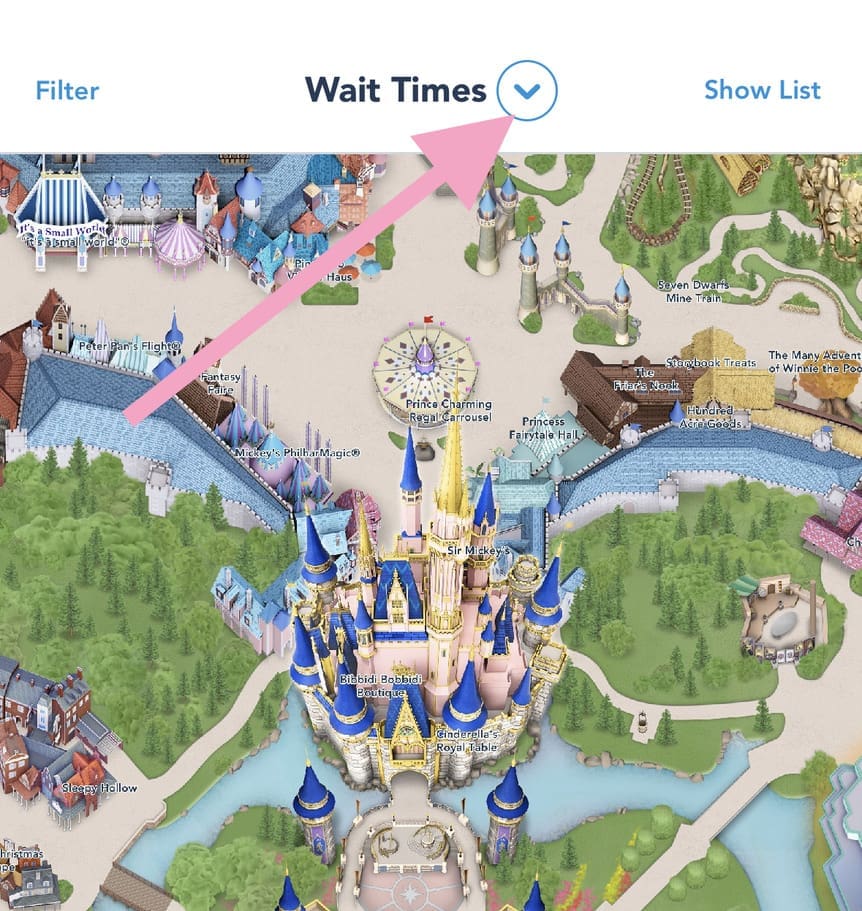 STEP TWO
Select Characters from the Dropdown
With the map open, tap on the dropdown menu at the top. Select "Characters". This is like your magical radar for your favorite Disney pals.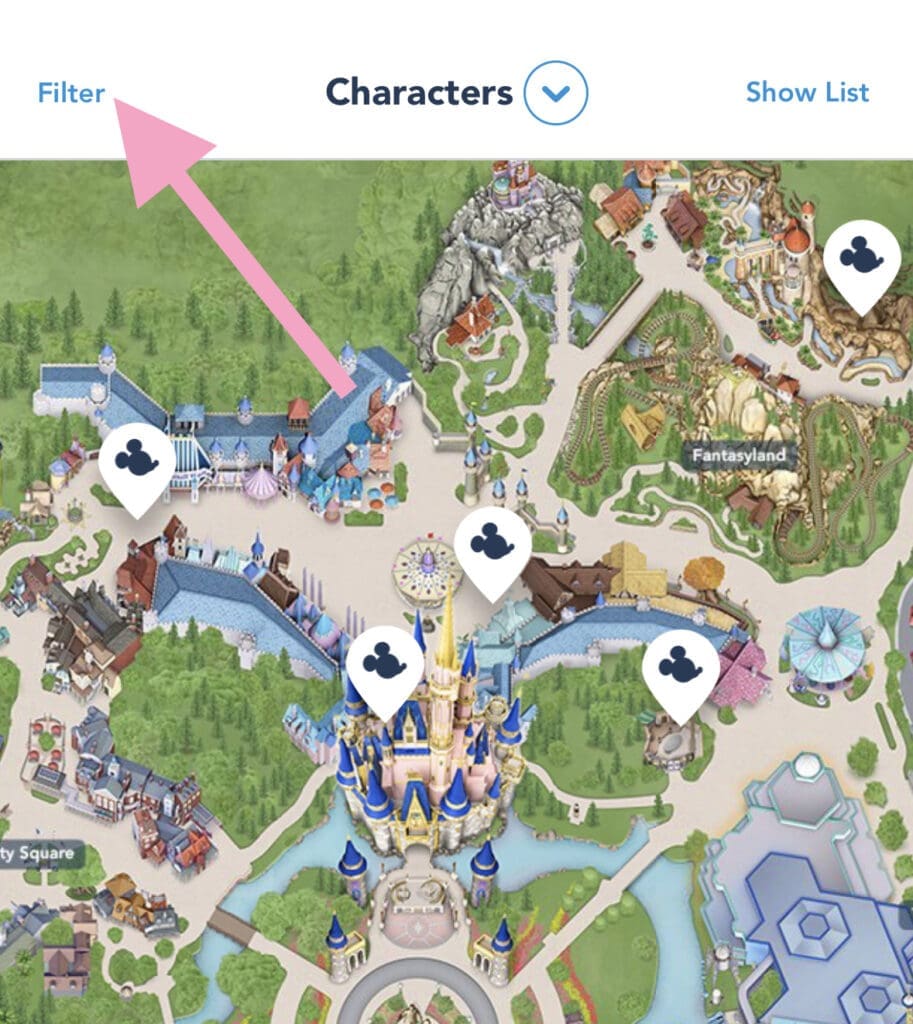 STEP THREE
Filter & Find
Use the "Filter" option to zoom in on a specific Disney park. Whether you're in Magic Kingdom or EPCOT, you'll know which characters are in each park.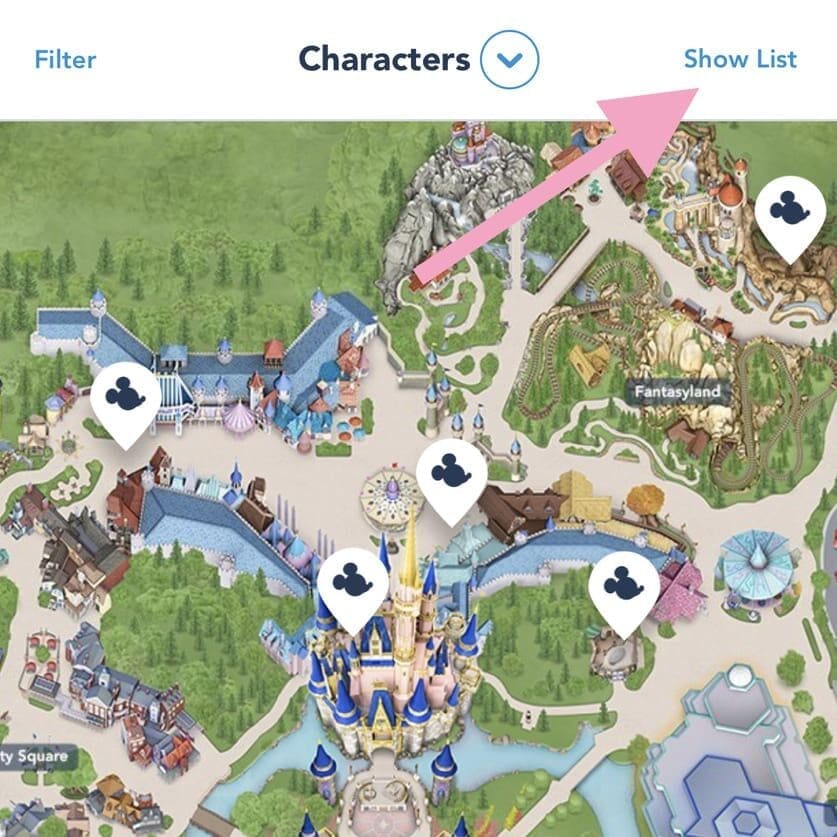 STEP FOUR
Switch Views for Your Convenience
Prefer a list view over a map view? No problem! Tap the "Show List" button to switch between views. It's all about what works for you.
STEP FIVE
Meet & Greet Time!
Both the map and list are interactive. Tap on a character, and voila! You'll see their schedule for the day, their spot on the map, and even directions from where you are. It's like having a personal Disney guide in your pocket.
Pro Tip : On the map view the characters are marked by the map icon with a profile of Mickey's head in it.
Disney Character Meet 'n Greet FAQ
Let's answer those commonly asked Disney Character Meet 'n Greet Questions!
How Many Characters?
While there's no exact count, over the years, hundreds of characters have made their way to Walt Disney World. On any given day, you might spot a few dozen of them sprinkled around the parks. Disney does not have an official list.
Who Will I See During My Trip?
The million-dollar question! The lineup of characters changes quite often, and there's no official list from Disney. My Disney Experience app will be the best resource. And guess what? Special events like runDisney, holiday celebrations, and after-hours parties might have some surprise appearances!
How About Marvel Characters?
Great observation! While Disney does own Marvel, due to some legal intricacies, most Marvel characters can't make appearances at Walt Disney World. But hey, you can meet some of them on Disney Cruise Line sailings and at Disneyland's Avengers Campus.
What About Character Meals?
During these special meals, characters drop by each table for some one-on-one time. Perfect for photos, autographs, and yes, more hugs!
Characters in Disney Hotels?
This is a bit rare but can happen during character meals at places like Chef Mickey's or during unique situations (like, say, a hurricane). Also, during special occasions, you may see a character or two, like Easter.
Rain Check on Characters?
Yep, the weather can play spoilsport. Outdoor character appearances might be canceled during rain or extreme temperatures.
Will My Kiddo Be Scared?
Every child is different. While most kids are thrilled to meet Mickey and friends, some might find the larger-than-life characters a tad overwhelming. If you're unsure, maybe try introducing them to costumed characters locally before your trip.
Impromptu Appearances
Sometimes, the most magical character encounters happen when you least expect them. Keep an eye out for impromptu character appearances featuring beloved Disney characters. These pop-up meet 'n greet offer an up-close and personal experience as characters wave, dance, and interact with guests from their special location.
Ready, Set, Hug!
Disney Character meet 'n greets at Disney World are a truly magical experience. Have a magical time, and may your Disney dreams come true!
Looking To Book Your Dream Disney Vacation?
Current Vacation Promotions
DisTrips and More Merchandise
Meet the Author: Nate Bishop
I'm a die-hard Disney fan with 38 years of visits under my belt, having stepped into Disney World 120+ times. Proud to be a Disney Annual Passholder, a Vacation Club member since '92, a Castaway Club Member, and a runDisney enthusiast. Oh, and I've graduated from the Disney College of Knowledge. Need Disney insights or planning tips? I'm your guy!