GETTING FROM HERE TO THERE
Your Disney World Transportation Guide
Are you starting to look at how to get around Walt Disney World? Awesome! You've come to the right place. Below is my Disney World transportation guide to help you find your way around!
Explore Disney World for Free
How to navigate the magic with complimentary transport options! From monorails to ferries, effortless travel at the Happiest Place on Earth.
Exploring Disney World is a breeze and, best of all, it won't cost you a dime to get around! Imagine hopping on whimsical buses, gliding across the water on ferries or boats, or zipping through the skies on monorails and skyliners. And for a touch of old-school charm, there's even a railroad and parking lot trams. All these transport options are completely free. That's right, you can zip around the parks and resorts without spending a single penny on getting around. If you're more of a 'drive-myself' kind of person, no worries – there's ample parking available. And for those who prefer a quick dash, taxis and rideshares like Uber and Lyft are ready to whisk you away (though these come with an extra charge). But here's a little insider tip: if you're staying at a Disney Resort, you can truly leave your wallet tucked away. Getting around Disney World is a part of the fun and it's all taken care of for you. Welcome to your Disney World transportation guide!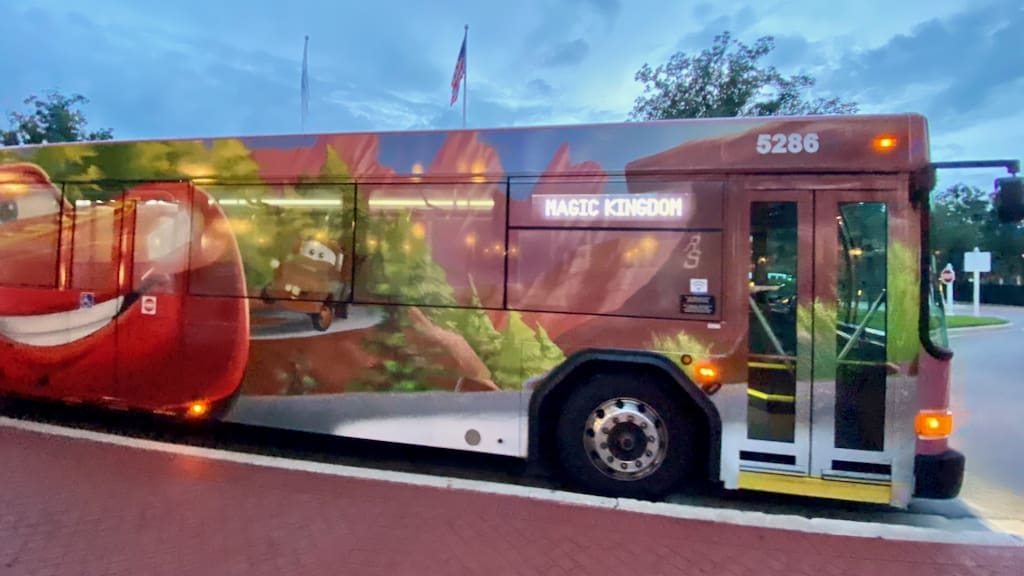 Disney World Bus Transportation
Exploring Disney World just got easier and more fun with their handy bus service! If you're at a spot where the Skyliner, monorail, or boats don't reach, and walking seems like a bit too much, Disney's buses are your go-to option. They seamlessly connect all the Disney Resorts to each theme park, water park, and even to Disney Springs. Plus, they go between the parks too. The best part? This service is totally free, whether you're staying at a Walt Disney World Resort or somewhere else.
You won't have to wait long for a ride either. Disney buses usually swing by every 20 minutes. Planning an early breakfast or hitting the parks for Early Entry? The buses start rolling out as early as 1 to 1.5 hours prior to the Early Entry opening time. Just be aware they're a bit more spaced out early in the morning. They ramp up to full service about an hour before the park's official open time and keep going until about 2 hours after the parks close. And if you're hanging out at Disney Springs, no worries – buses run there until 2 a.m. Just remember to double-check the latest schedules with your resort.
No matter where you're staying, catching a bus is a breeze. Larger resorts have stops throughout the property, while the smaller ones have stops conveniently located near the lobby. Going between the theme parks or over to Disney Springs? You'll find the bus stops are right near the entrances, so you're just steps away from Disney transportation.
Disney World Bus Transportation FAQ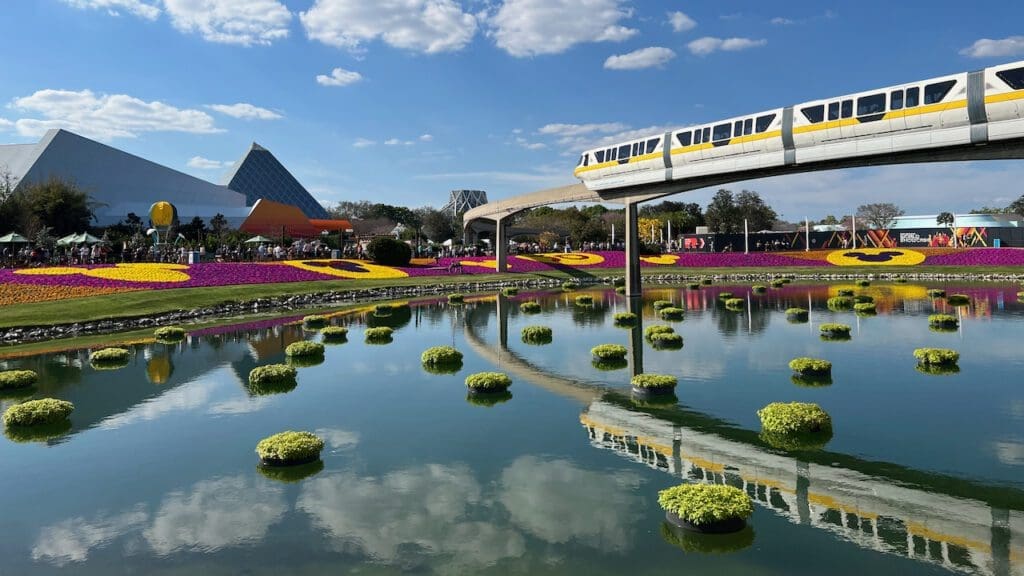 Disney World Monorail Transportation
Did you know that Disney World's monorail system is a real crowd-pleaser? With over 150,000 daily riders, it's one of the busiest monorail systems in the world. It's not just a ride; it's a fun-filled journey connecting various parts of Disney World. And the best part? It's completely free, whether you're staying at a Disney Resort or just visiting for the day.
Now, let's talk about the heart of this system, the Transportation and Ticket Center (TTC). Think of the TTC as your gateway to the magic. It's where all three monorail lines start their journeys. The TTC isn't just a hub for the monorails; it's also where you can grab your tickets, hop on a ferry, or catch a bus. It's your one-stop spot to start your Disney day.
This line is like a scenic tour, looping between the Magic Kingdom and the TTC. It makes stops at three amazing resorts: the Polynesian, Grand Floridian, and Contemporary. It's a great way to get a sneak peek at these iconic Disney resorts.
This line is all about speed, zipping directly between the TTC and Magic Kingdom, bypassing the resorts. It's perfect for those eager to hit the rides.
If you want to explore EPCOT, this monorail line is your direct connection from the TTC. It's a smooth and enjoyable ride, offering a unique view of the park as you approach.
Disney World Monorail FAQ
Here, you'll find handy answers to all your questions about monorail services, from operating hours and accessibility to free usage and route details. Dive in for a quick, informative guide to make your Disney travel experience magical and hassle-free!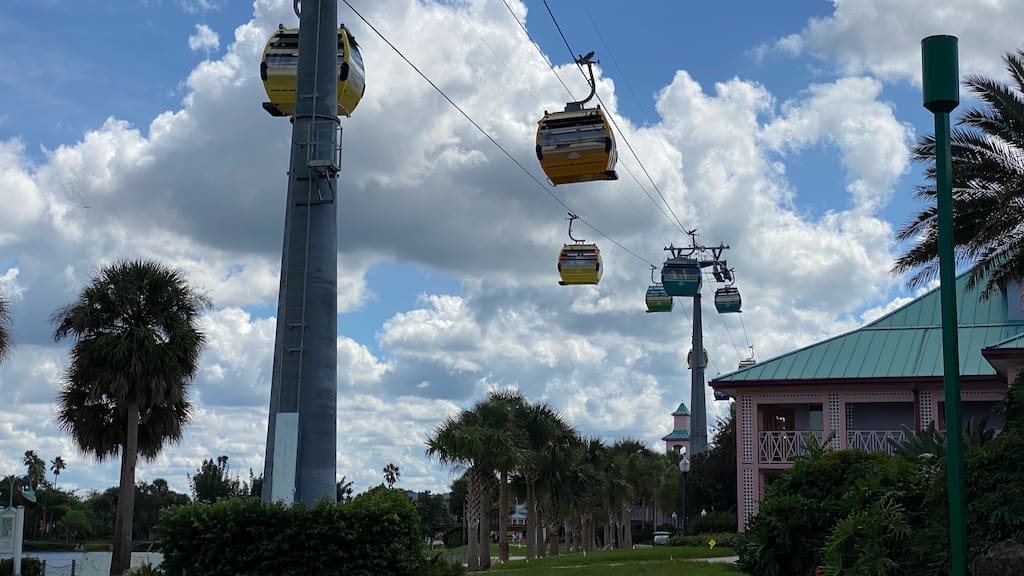 Have you heard about the latest way to zip around Walt Disney World Resort? It's the Disney Skyliner, and it's been making waves since its grand debut on September 29, 2019. This cool gondola lift system isn't just a ride; it's a whole new way to experience Disney World.
Picture this: soaring above the resort, the Skyliner connects you to various destinations through its three scenic routes. Whether you're heading to a theme park or back to your resort, these gondolas make traveling a breeze. The heart of this network is at Disney's Caribbean Beach Resort, where you can hop on and glide to any of the five stations on the system. It's not just transportation; it's an adventure in the sky!
This is the longest of the three Skyliner routes, offering a scenic journey from the Caribbean Beach to the Riviera and all the way to Epcot. Imagine gliding through the sky for about three minutes from Caribbean Beach to Riviera, and then another six minutes to reach Epcot. It's a smooth, enjoyable ride that gives you a unique view of the resort!
This route is your quick, five-minute aerial shortcut from Caribbean Beach straight to the excitement of Disney's Hollywood Studios theme park. It's perfect for those eager to dive into the action without delay.
ART OF ANIMATION AND POP CENTURY LINE
This one's the shortest route, but it's packed with fun. In just about four minutes, you can travel from Caribbean Beach to the colorful realms of Art of Animation and Pop Century.
Disney World Skyliner FAQ
Here, you'll find handy answers to all your questions about Disney's magical aerial transportation system. Discover tips on boarding, operating hours, cabin details, and more to ensure a smooth and enjoyable Skyliner experience.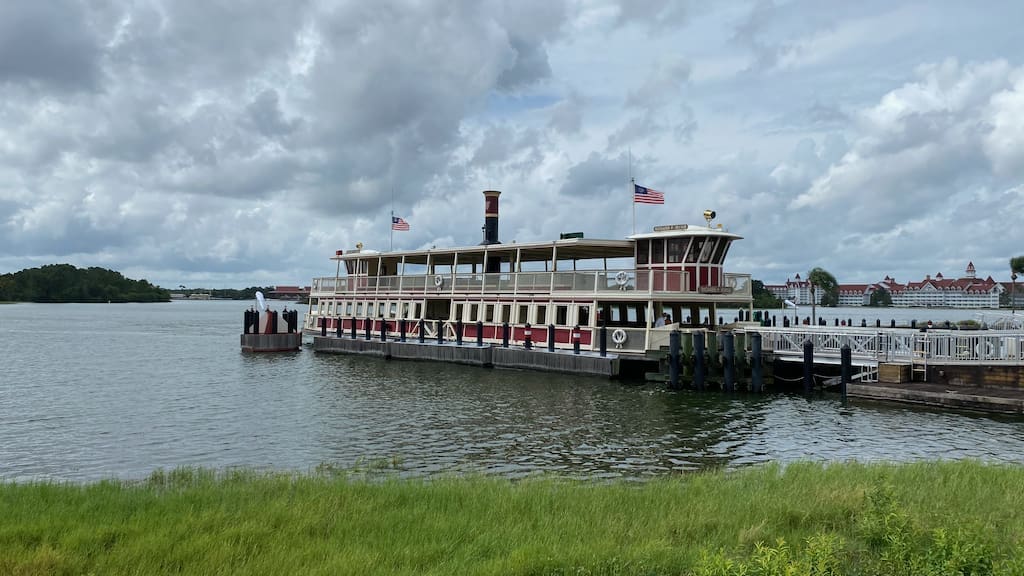 Disney World Boat Service
Ready to add a splash of fun to your magical stay? If you're staying at one of the select Disney Resort hotels, you're in for a treat with free boat rides that'll whisk you around the resort in style. Imagine gliding across the water, Disney-style, to your favorite parks and resorts. It's not just convenient; it's an adventure in itself!
Disney World boat service is your fun-filled shuttles to and from the parks. They'll zip you over to Magic Kingdom, Epcot, Hollywood Studios, Disney Springs, and along the waterfront resorts. These boats are super regular, too – they set off every 15-30 minutes.
These big guys are your direct link between Magic Kingdom and the Transportation and Ticket Center. They start running 30-45 minutes before the park opens and keep going until 45-60 minutes after it closes.
Hop on for a scenic route to Magic Kingdom, Disney's Grand Floridian Resort & Spa, and Disney's Polynesian Village Resort. Starts at 8:30 a.m. and sails until 60-90 minutes post-park closure. Note: No service during Early Entry and Deluxe Evening Hours.
This one cruises between Disney's Contemporary Resort, Wilderness Lodge, and Fort Wilderness Resort and Campgrounds. It's on the go from 6:45 a.m. until 11:30 p.m.
Travels between Fort Wilderness Resort & Campground and Magic Kingdom. Operating from 8:30 AM until 60-90 minutes after the park closure.
This route connects Wilderness Lodge with Magic Kingdom, running from 8:30 a.m. until 60-90 minutes after closing. Note: No service during Early Entry and Deluxe Evening Hours.
Sails between Disney Springs and the Port Orleans Resorts.
Takes you between Disney Springs and the Old Key West Resort.
Connects Disney Springs with Disney's Saratoga Springs Resort.
The internal boat service at Disney Springs.
PLEASE NOTE: These boats generally run from 11 am to 11:30 pm, but it's always good to check the daily schedule for any changes.
EPCOT & HOLLYWOOD STUDIOS FRIENDSHIP BOATS
These boats are your gateway to Hollywood Studios, Disney's Swan and Dolphin Resorts, Yacht and Beach Club Resorts, Boardwalk Inn, and of course, Epcot. They usually operate from 8:30 am until 60 minutes after the parks close. Don't forget to check the daily schedules for any updates.
EPCOT Internal Routes: Within World Showcase Lagoon Friendship Boats sail between the Canada and Morocco pavilions and between Germany and Mexico pavilions. The availability of these Friendship Boats varies depending on the day and overall crowd levels.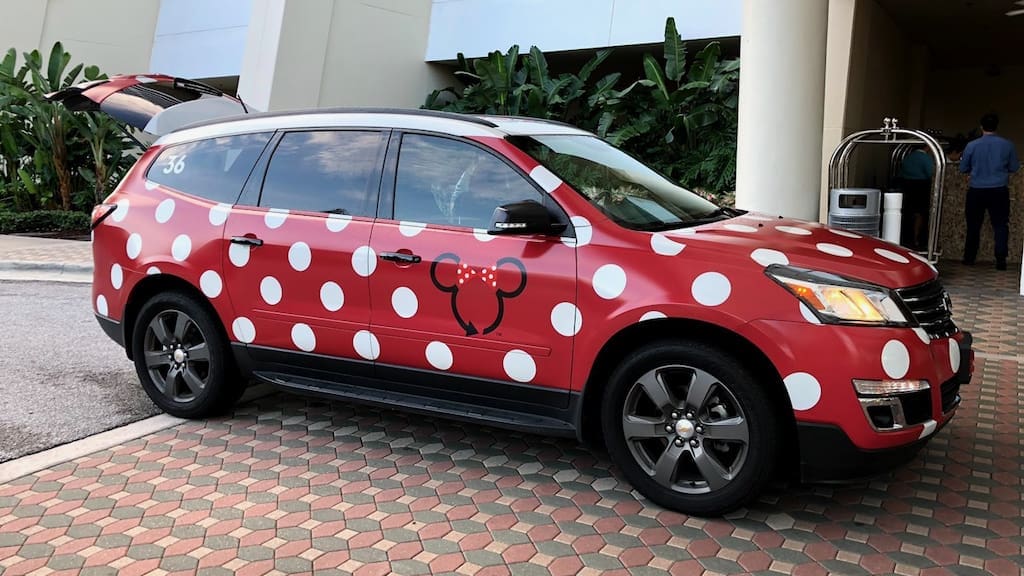 Disney World Ride Share Options
If you're up for splurging a bit for a smoother and more enjoyable experience at Walt Disney World, you've got some great options to zip around the park. Let's dive into the fun and convenient ways to get around, shall we?
Imagine cruising around in a cute, red and white polka-dotted SUV – that's the Disney Minnie Van for you! These adorable rides, available from 6:30 am to 12:30 am, are not just any regular vehicles; they're driven by Disney's very own Cast Members. Booking one is a breeze – just use your Lyft app, and voila, you're set for a magical ride. These vans aren't just about style; they're super practical too, fitting up to six people and equipped with two adjustable car seats for the little ones. Yes, they're pricier than your usual taxi or rideshare, but for direct drop-offs right at the Magic Kingdom or a comfy ride to Fort Wilderness, it's totally worth it!
Of course, the trusty Lyft and Uber are always at your service throughout Walt Disney World Resort. They're generally more wallet-friendly than Minnie Vans or taxis, except during those busy times when surge pricing kicks in. But hey, most of the time, they're your best bet for an economical ride. Just grab your phone, tap the app, and your ride is on its way. Easy-peasy!
And let's not forget the classic yellow taxis, ready to whisk you away wherever you need to go. Operated by Mears Transportation, these cabs are a reliable choice. To grab one, just dial (407) 699-9999 or ask your hotel's front desk to call one for you. Remember, stick to the metered ones to avoid overpaying.
So there you have it, your Disney World transportation guide! Whether it's by bus, monorail, Skyliner, or boat, Disney is ready to get you from point a to point b completely free of charge. If you're ok with spending a few extra dollars then the playful Disney Minnie Vans, the convenient Lyft and Uber, or the traditional taxis, getting around Walt Disney World is a breeze. Choose what suits your style and budget, and enjoy every magical moment!
Looking To Book Your Dream Disney Vacation?
Current Vacation Promotions
DisTrips and More Merchandise
Meet the Author: Nate Bishop
I'm a die-hard Disney fan with 38 years of visits under my belt, having stepped into Disney World 120+ times. Proud to be a Disney Annual Passholder, a Vacation Club member since '92, a Castaway Club Member, and a runDisney enthusiast. Oh, and I've graduated from the Disney College of Knowledge. Need Disney insights or planning tips? I'm your guy!