Brand New: Disney Jollywood Nights Coming to Disney's Hollywood Studios
Reading Time:
4
minutes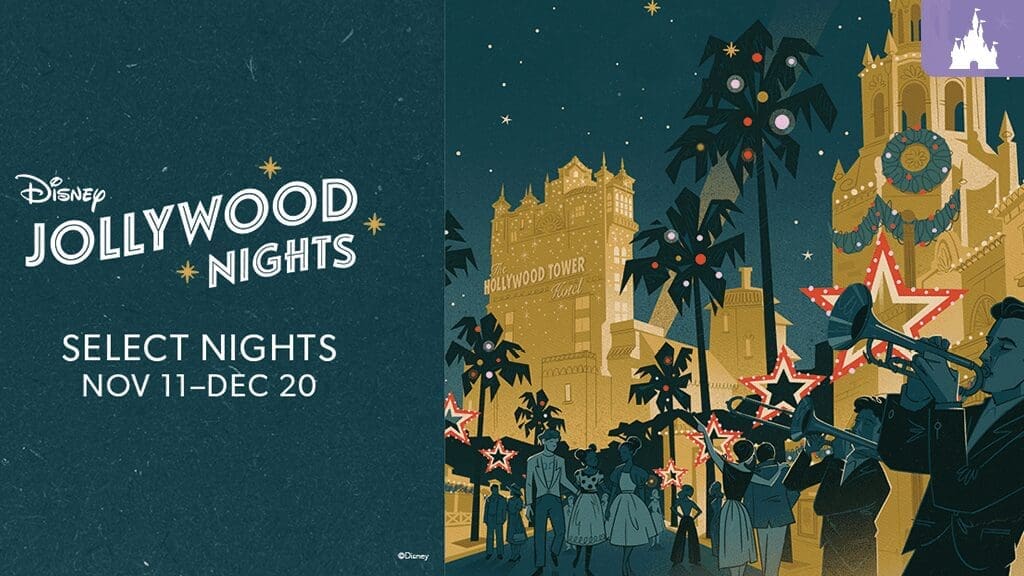 Step into a world of holiday magic like never before with the all-new nighttime extravaganza at Disney's Hollywood Studios. Prepare to be dazzled by sparkling decorations, enchanted by modern beats infused with classic holiday melodies, and tempted by delectable craft cocktails and mouthwatering dishes. Get ready to immerse yourself in nostalgia and indulge in a glamorous celebration like no other. Introducing Disney Jollywood Nights, a separately ticketed event taking place from 8:30 p.m. to 12:30 a.m. on select nights between November 11th and December 20th, 2023.
Embrace the holiday spirit by dressing in your most fabulous holiday attire or festive flair. Dance the night away to merry mashups, savor divine treats and delightful libations, and capture memorable selfies with beloved Disney characters during this festive extravaganza. And as the night draws to a close, experience the return of the sensational nighttime spectacle, "Jingle Bell, Jingle BAM!" Before you know it, you'll be transported to a fa la la la la la la la land, right in the heart of Tinseltown!
Throughout Disney's Hollywood Studios, you'll encounter holiday vibes in various entertainment areas inspired by different genres. Kick off the evening with a DJ spinning a mix of holiday tunes, setting the festive tone for the night. Commissary Lane comes alive with a lively Latin Street Fair, immersing you in the vibrant energy of Latin culture. And prepare to be starstruck as Kermit the Frog and Miss Piggy, alongside their Disney friends, make special appearances at Theater of the Stars. But that's not all—Hyperion Theater will host a spirited sing-along that promises to be a memorable experience (more details to come).
Indulge in glitz and glamour at two exclusive entertainment experiences. Immerse yourself in the sophistication of a jazz lounge at The Hollywood Brown Derby, where limited-capacity allows for an intimate and captivating atmosphere. Alternatively, step into an otherworldly soiree at The Hollywood Tower Hotel Courtyard, where enchantment awaits at every turn.
As the night unfolds, brace yourself for the much-anticipated return of the festive favorite, "Jingle Bell, Jingle BAM!" This larger-than-life nighttime spectacular will take your breath away with its mesmerizing music, dazzling fireworks, breathtaking special effects, and state-of-the-art projections.
Throughout the event, seize the opportunity to snap selfies at unique photo locations scattered throughout the park. Strike a pose with your friends against holiday-themed backdrops and embrace the magic of the season. Additionally, two new Disney PhotoPass experiences will be available for you to capture the perfect holiday memories. Best of all, complimentary digital downloads of all your Disney PhotoPass photos taken during the event are included with your ticket.**
No visit to Disney's Hollywood Studios would be complete without encountering iconic characters. Meet and greet Mickey Mouse, Minnie Mouse, and the rest of the gang in Animation Courtyard, where a hot set adorned with holiday props creates the perfect backdrop for unforgettable moments. Channel your inner child and reunite with beloved characters like Powerline Max and Phineas and Ferb at Echo Lake, or strike a pose with the fabulous Edna Mode and her super friends at Pixar Place.
And that's not all—prepare for after-hours access to some of your favorite rides and coasters under the twinkling night sky. Experience the thrill of attractions like Slinky Dog Dash, Rock N' Roller Coaster Starring Aerosmith, The Twilight Zone Tower of Terror, and the epic Star Wars: Rise of the Resistance. Please note that Star Wars: Rise of the Resistance will utilize a virtual queue* during Disney Jollywood Nights.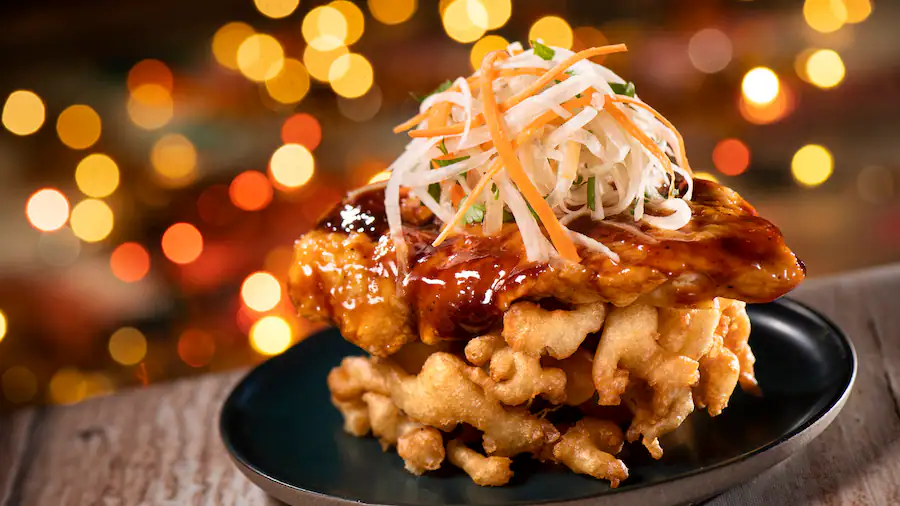 One of the highlights of Disney Jollywood Nights is the exclusive array of delectable delights available only during this special occasion. Guests will have the opportunity to indulge in a variety of culinary masterpieces, crafted with the utmost care and attention to detail. Among the must-try offerings is the Spicy Korean Chicken on a Mini Funnel Cake, a delightful fusion of flavors that will leave your taste buds begging for more. And for those with a sweet tooth, prepare to be dazzled by the colorful Christmas Tree Cookie Stack, inspired by the iconic Echo Lake Christmas Tree. This whimsical creation is as delightful to look at as it is to savor.
But the feast doesn't end there. Disney Jollywood Nights also offer an impressive selection of classic cocktails and holiday beverages to complement your dining experience. Sip on a festive concoction as you stroll through the park, immersing yourself in the holiday spirit and creating unforgettable memories with loved ones.
It's important to note that Disney Jollywood Nights is a limited-capacity event, ensuring an intimate and unforgettable experience for all attendees. Guests staying at select Walt Disney World Resort hotels, Walt Disney World Swan and Dolphin hotels, and Shades of Green have the exclusive opportunity to purchase tickets starting June 29. For all other guests, tickets will be available for purchase starting July 6 on the official Walt Disney World website. With ticket prices ranging from $159 to $179 per person, this is an extraordinary opportunity to embrace the magic of the season.
Mark your calendars and save the dates, as Disney Jollywood Nights will take place on select evenings throughout November and December. The party dates are as follows;
November 11, 18, 20, 27, 29
December 4, 6, 16, 18, 20
Don't miss your chance to experience the wonder and joy of this incredible holiday event.
As the holiday season approaches, there's no better way to celebrate than by immersing yourself in the enchantment of Disney Jollywood Nights. From the delectable treats to the festive beverages and everything in between, this is a culinary journey you won't want to miss. Gather your loved ones, purchase your tickets, and get ready to embark on a magical adventure that will leave you with cherished memories for years to come.