Construction Update on the New DVC Tower at Disney's Polynesian Village Resort
Reading Time:
2
minutes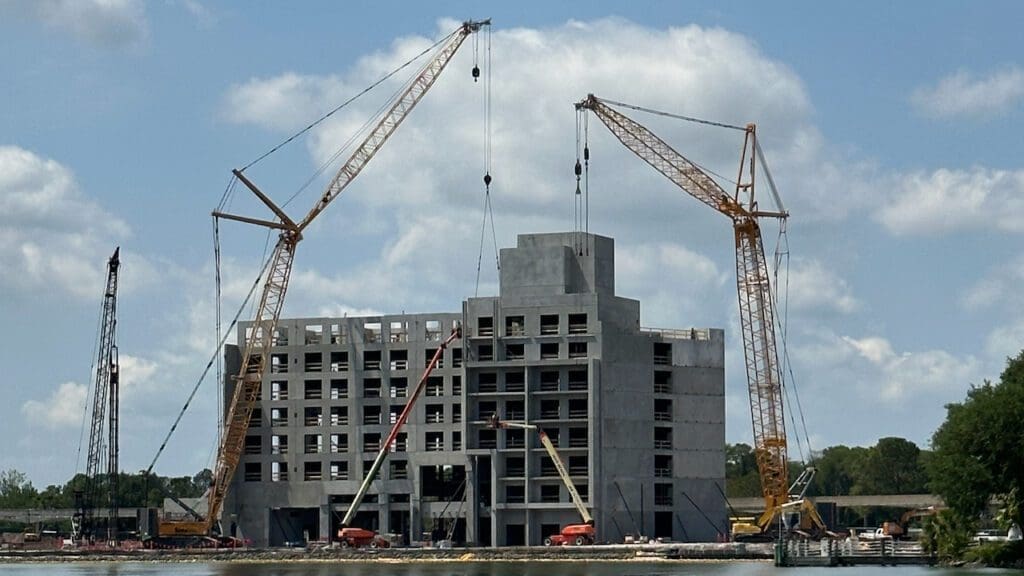 Hey there, Disney fans! Hold onto your Mickey ears because we've got some exciting news for you. The new DVC tower at Disney's Polynesian Village Resort is entering a whole new phase of construction. It's time to dive into the latest updates on the newest Disney Vacation Club project!
Interior Construction Takes Center Stage
If you're wondering what's been happening behind the scenes, we've got the scoop. Let us tell you, things are really starting to take shape! Construction crews have shifted their focus to the interior of the new structure. Step inside the tower, and you'll be greeted by bustling construction crews working their magic to get the guts of the building in order.
The Walls are Going Up!
From the monorail and surrounding areas, it's clear to see that the construction crew is hard at work building the interior walls. Brick by brick, the tower is rising, and this once bare skeleton is slowly transforming into a magnificent structure that will soon leave you breathless.
Plumbing Progress
Now, let's talk about the important stuff – the plumbing! The crew is also busy tackling the interior plumbing of the tower. A majority of the main plumbing lines are now in place. The next step is for the rooms to be framed out and the plumbing to be run for the individual rooms. So get ready to enjoy those refreshing showers and relaxing baths in style!
What's Next?
With each passing day, the Disney Vacation Club tower at Disney's Polynesian Village Resort gets closer to completion. Soon enough, it will be 2024 and the new Polynesian Village Resort Tower will be ready to welcome you to an enchanting paradise filled with endless wonders and unforgettable memories. So, stay tuned for more updates as we embark on this incredible journey together!
That's a wrap for now, folks! Remember to keep dreaming of your Disney adventures, and we'll be back with more exciting news soon. Wishing you a sprinkle of pixie dust and loads of Disney magic!