Exciting News! A New Take On The Sanderson Sisters Making Their Debut at Mickey's Not-So-Scary Halloween Party!
Reading Time:
3
minutes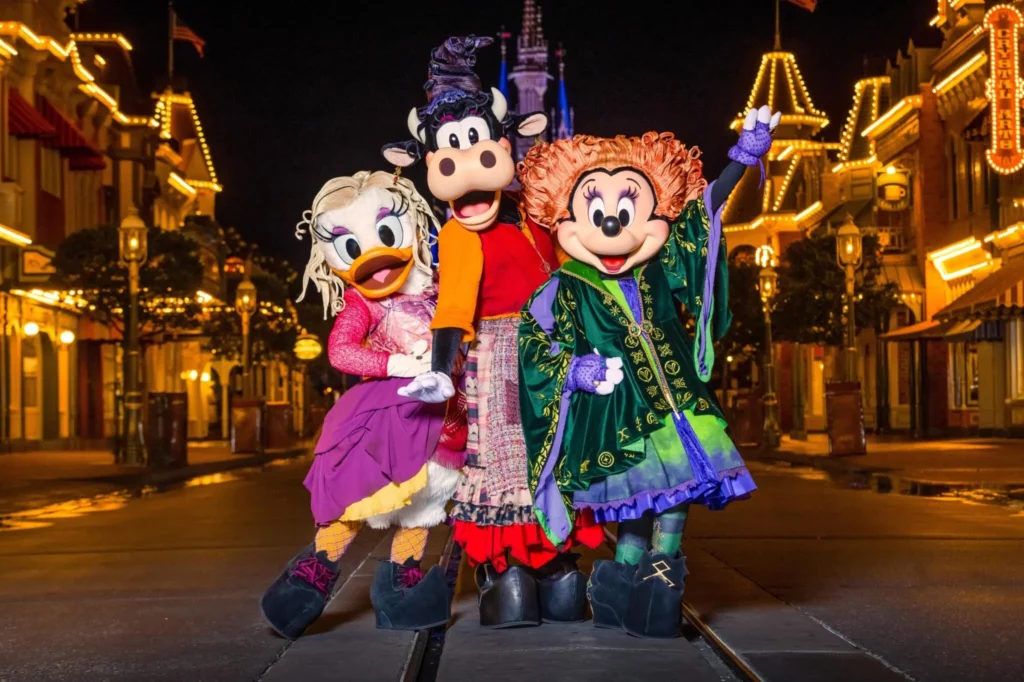 Get ready to be spellbound and embark on a magical journey at Walt Disney World this Halloween season! In a sensational announcement, Disney World has revealed that Daisy Duck, Clarabelle Cow, and Minnie Mouse will be joining the festivities at Mickey's Not-So-Scary Halloween Party as none other than the iconic Sanderson Sisters from the beloved movie, "Hocus Pocus." This thrilling addition to the "Boo-To-You" Parade promises to enchant guests with a bewitching performance like never before. Let's take an exclusive first look at the extraordinary Sanderson Sister costumes that will mesmerize visitors at Walt Disney World for the very first time.
Unveiling the Sanderson Sisters' Costumes
Prepare to be captivated by the awe-inspiring transformation of Daisy Duck, Clarabelle Cow, and Minnie Mouse as they bring the mystical Sanderson Sisters to life. Drawing inspiration from the beloved characters portrayed by Bette Midler, Sarah Jessica Parker, and Kathy Najimy in the cult classic film, Disney's talented costume designers have crafted stunning outfits that seamlessly blend Disney magic with the eerie allure of the Sanderson Sisters.
Minnie Mouse, known for her timeless grace and elegance, steps into the role of Winifred Sanderson, the devious leader of the sister trio. Her costume captures Winifred's essence with a vibrant, flowing gown adorned with intricate details and rich, witchy hues. Accompanied by Winifred's signature hairdo and her commanding presence, Minnie Mouse is sure to cast a spell on spectators.
Next, we have the delightful Clarabelle Cow embracing the role of Mary Sanderson, the quirky and comedic sister. Clarabelle's costume radiates Mary's whimsical nature, featuring a playful patchwork dress, topped with a voluminous cape and a matching hat adorned with feathers and enchanting trinkets. With her characteristic wit and charm, Clarabelle Cow is set to bring laughter and cheer to the Halloween party.
Last but certainly not least, Daisy Duck, known for her distinctive style and feisty personality, steps into the shoes of Sarah Sanderson, the youngest and most flirtatious of the trio. Daisy's costume is a breathtaking creation, showcasing Sarah's enchanting allure with a gown made of ethereal fabrics, delicate lace, and adorned with sparkling accents. With her gracefulness and charm, Daisy will capture the hearts of all who lay eyes upon her.
Immersive Experience at Mickey's Not-So-Scary Halloween Party
The addition of the Sanderson Sisters to the "Boo-To-You" Parade marks an extraordinary moment for Disney World and its dedicated fans. For the first time ever, guests will have the opportunity to witness this magnificent trio, Daisy Duck, Clarabelle Cow, and Minnie Mouse, embrace the iconic roles of the Sanderson Sisters, creating an enchanting experience that is sure to leave a lasting impression.
As the "Boo-To-You" Parade weaves its way through the park, guests will be transported to the hauntingly delightful world of "Hocus Pocus." The Sanderson Sisters, accompanied by other classic Disney characters, will bring their unique blend of mischief and charm to the Halloween festivities, making it a truly unforgettable spectacle.
The anticipation is palpable as Disney World unveils the exciting news of Daisy Duck, Clarabelle Cow, and Minnie Mouse joining the Sanderson Sisters in Mickey's Not-So-Scary Halloween Party. These beloved characters will enchant guests with their extraordinary portrayal of Winifred, Mary, and Sarah Sanderson, ensuring an unforgettable Halloween experience for all. Make sure to mark your calendars, as the "Boo-To-You" Parade will feature these remarkable costumes, providing a spellbinding encounter that has never been seen before at Walt Disney World. Prepare to be mesmerized by the magic that awaits you this Halloween season!