Get Ready as Disney100 Comes to Epcot: The Ultimate Celebration of Disney's 100-Year Legacy!
Reading Time:
2
minutes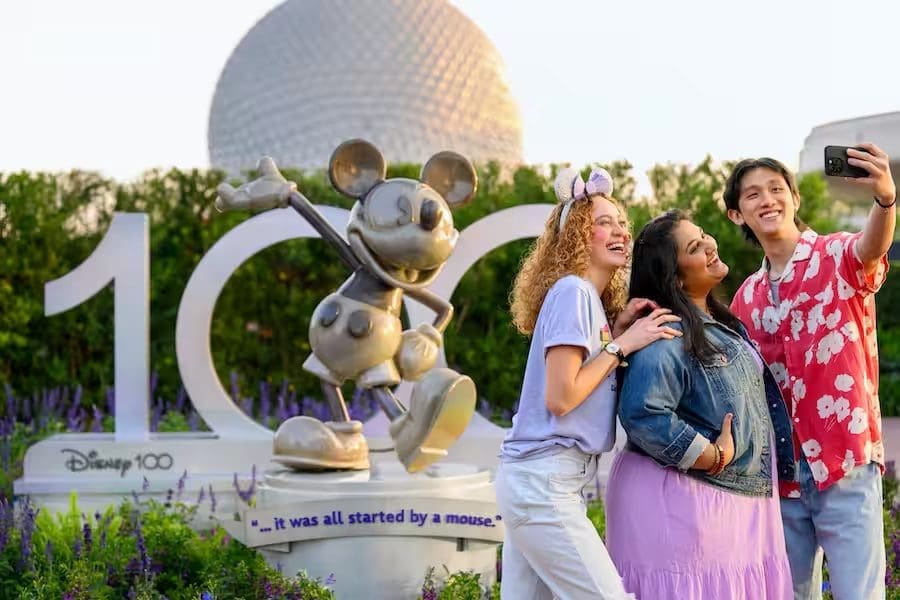 The Walt Disney Company's 100th-anniversary celebration, known as Disney100, is set to kick off at EPCOT on September 22nd, bringing an extraordinary experience to Walt Disney World Resort. As we commemorate a century of Disney magic and innovation, the Disney100 Celebration at EPCOT promises to be a memorable event for fans and families. Let's dive into the exciting details as Disney100 comes to EPCOT!
EPCOT
The Heart of Disney100: EPCOT takes center stage as the hub for the Disney100 Celebration at Walt Disney World Resort. This remarkable event not only marks a century of Disney's magic but also signifies the completion of the multi-year transformation of EPCOT.
Unveiling the Marvels
Starting September 22nd, EPCOT will immerse guests in captivating Disney100-themed experiences and installations. World Celebration, adorned with shimmering Disney100 platinum banners and exquisite decorations, becomes the epicenter of the celebration. As you stroll along the walkway to World Showcase, explore the all-new mural at the heart of World Celebration, a hidden treasure showcasing 100 Disney characters. It's an immersive experience that brings joy to Disney fans of all ages during Disney100 comes to EPCOT.
Capturing Memories:
Capture unforgettable moments when Disney100 comes to EPCOT. Take a selfie with the new platinum Mickey Mouse sculpture in World Celebration, framed perfectly by the iconic Spaceship Earth. Don't miss the opportunity to capture dazzling Disney100 Magic Shots and enjoy the PhotoPass offerings available throughout Walt Disney World Resort.
Meet the Icons
Meet and embrace the epitome of Disney magic when Disney100 comes to EPCOT. Mickey Mouse and Minnie Mouse will be dressed in their finest platinum attire, they eagerly await guests in the Imagination! pavilion, ready to share in the celebration. As the sun sets, witness the radiant display of colors and lights illuminating Spaceship Earth, accompanied by the enchanting Disney100 anthem—a unique rendition of "When You Wish Upon a Star."
A Culinary Journey
Embark on a culinary journey when Disney100 comes to EPCOT. Indulge in limited-time food and beverage offerings at the EPCOT International Food & Wine Festival and the EPCOT International Festival of the Holidays. From tantalizing dishes to delightful drinks, these menus are designed to evoke both new and timeless Disney memories. Don't forget to grab the exclusive purple metallic Mickey Balloon Premium Popcorn Bucket, a whimsical treat available only at EPCOT during Disney100.
Join the Celebration
From September 22nd to December 31st, 2023, Walt Disney World invites you to be part of Disney100 at EPCOT. Immerse yourself in the enchantment of Disney's century-long legacy, witness EPCOT's transformation, and create unforgettable memories. Don't miss this monumental celebration!
Disney100 at EPCOT is a monumental event that honors a century of Disney's magic and innovation. With awe-inspiring installations, meet-and-greet opportunities, and culinary delights, this limited-time celebration will leave guests with cherished memories. Be part of the joy and excitement as Disney brings its century-long legacy to EPCOT during Disney100 celebration.