Get Ready to Savor Spooky Delights at Mickey's Not-So-Scary Halloween Party!
Reading Time:
3
minutes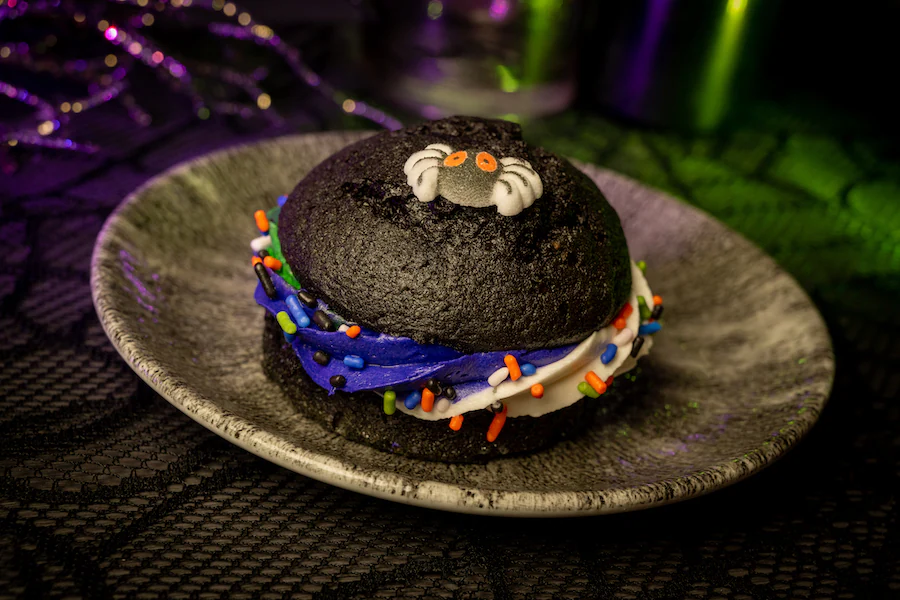 Hey there, Disney Halloween fans! The countdown is on, with only a few days left until the first Mickey's Not-So-Scary Halloween Party at the Magic Kingdom. I'm here to tantalize your taste buds with a look at the spine-tingling exclusive treats (at an additional cost) you'll find during this festive event. And don't worry, while trick-or-treating is a must, we've got a whole lineup of delectable bites beyond just candy. Let's dive in and take a tantalizing tour of the bewitching culinary offerings you can expect!
Mickey's Not-So-Scary Halloween Party Exclusive Treats
Cheshire Café:
MMMummy Treat: A heavenly flaky pastry stuffed with indulgent chocolate hazelnut filling, crowned with white icing stripes, and adorned with sugar eyes. (Brand New!)
Cosmic Ray's Starlight Café:
Terrifyin' Twice-Spiced Chicken Sandwich: Dive into a fiery fried chicken breast dipped in hot honey, topped with pepper jack cheese, bacon, and jalapeño poppers. (New Arrival!)
The Snarling Sub: Satisfy your cravings with a spooky meatball sub, boasting spicy marinara, pesto, and pearl mozzarella "teeth," all nestled within a black roll. (Fresh on the Scene!)
Zombie Fingers: Sink your teeth into almond cookie fingers, paired with Key lime pie white chocolate ganache, salted caramel crisp pearls, and sugar eyes. (A Hauntingly Delicious Creation!)
River Styx Elixir: Quench your thirst with a tantalizing kiwi lemonade shimmering with luster dust. (Non-alcoholic wonder!)
The Friar's Nook:
Pain and Panic Brat: Relish a bratwurst adventure featuring sweet and spicy onion relish, and a zesty sriracha mustard twist. (Just Arrived!)
Pain and Panic Loaded Tots: Delight in tots brimming with sweet and spicy onion relish, crumbled bratwurst, and a zingy sriracha mustard drizzle. (Fresh off the Cauldron!)
Buffalo Chicken Hand Pie: Revel in the magic of a hand pie filled with spicy ranch drizzle, blue cheese powder, and a generous helping of Buffalo chicken. (Absolutely Bewitching!)
Golden Oak Outpost:
Loaded Sweet Potato Fries: Indulge in a bewitching blend of sweet potato fries sprinkled with cinnamon sugar, topped with marshmallow cream, butterscotch chips, and toffee pieces. (An Autumnal Delight!)
Main Street Bakery:
Minnie-shaped Pumpkin Cheesecake: Take a bite of pure enchantment with pumpkin cheesecake, pumpkin coffee mousse, and a white chocolate candy corn bow. (Absolutely Irresistible!)
Pecos Bill Tall Tale Inn & Café:
Cajun Burger: Embark on a flavorful journey with a Cajun-spiced all-beef patty crowned by a fried green tomato, Cajun Andouille dip, and Creole remoulade on a striking black bun. (Hot off the Cauldron!)
Bowl of Bones: Savor bone-in piggy wings fried to perfection, coated in Coca-Cola Cherry barbecue sauce, and topped with fresh jalapeños. (Ready to Haunt Your Taste Buds!)
Candy Corn Milkshake: Get your fix of sweet corn soft-serve, topped with whipped cream and delectable sweet potato cornbread nuggets. (Chillin' Like a Villain!)
Plaza Ice Cream Parlor:
Apple Fritter Sundae: Indulge in apple fritters adorned with your choice of ice cream, whipped cream, and sprinkles. (A Scary Good Delight!)
Ice Cream Cookie Sandwich: Sink your teeth into cookies topped with sprinkles and your favorite ice cream. (Sweet Dreams Are Made of These!)
Sleepy Hollow:
Char Siu Chicken Wings: Delight in whole chicken wings glazed with char siu and embellished with chili threads and garlic. (A Flavorful Haunting!)
Headless Horseman Cupcake: Embrace the spice with a lime-filled, spicy cheese-flavored cupcake crowned with cream cheese buttercream, eerie cheese-flavored snacks, and a chocolaty twist. (A Spooktacular Treat!)
Cinnamon Funnel Cake: Revel in a heavenly funnel cake topped with pumpkin ice cream, pumpkin spiced caramel, and tantalizing butterscotch chips. (A Delightful Dream!)
Storybook Treats:
Hades Cone: Embark on a fiery journey with DOLE Whip mango and habanero soft-serve, topped with a blue raspberry shell and a hint of chili-lime seasoning. (Hot and Cool Fusion!)
Sunshine Tree Terrace:
Tropical Graveyard: Delight in mango mousse and sour tropical gelatin, topped with cookie crumbles, a gummy worm, sprinkles, and a tombstone chocolate piece. (A Spooky Tropical Paradise!)
Churro Cart near Cinderella Castle:
Jack Pop: Savor a delectable chocolate fudge brownie oozing with marshmallow filling and crowned with a whimsical Jack chocolate piece. (Jack is Back!)
Sally Pop: Dive into a yellow pop embellished with raspberry filling, topped with a charming Sally chocolate piece. (A Sweet and Whimsical Treat!)
Outdoor Vending Cart near The Haunted Mansion:
Skull Brownie: Delight in a Mexican-spiced chocolate brownie with dulce de leche filling, adorned with sugar eyes for an eerie touch. (A Hauntingly Delicious Experience!)
These spine-chilling delights are exclusively available from Aug. 11 through Nov. 1 during Mickey's Not-So-Scary Halloween Party. Don't miss your chance to indulge in these limited-time treats that'll have your taste buds dancing with delight. Get ready to eat, drink, and be scary at this year's must-attend Halloween bash. Happy snacking, foodies!