New Disney Permit for Work on Epcot's Imagination Pavilion
Reading Time:
3
minutes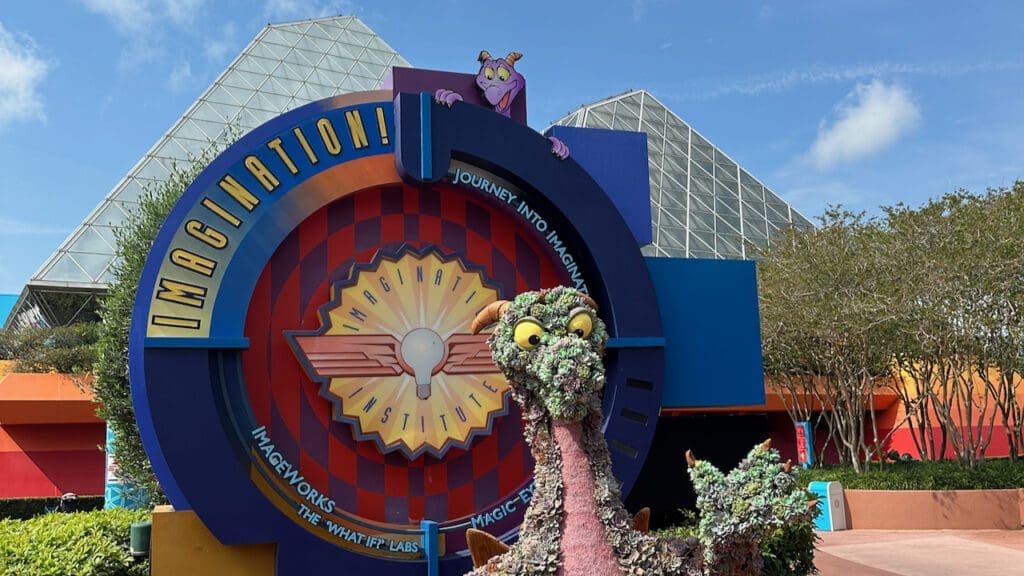 Hey there, fellow Disney fans! I've got some enchanting news brewing in the magical world of Walt Disney World. A new Disney permit has been filed, and it's like a whisper from Tinker Bell herself, teasing at something wonderful stirring up over at the Imagination Pavilion in EPCOT. Now, before you break out your Mickey ears and start practicing your happy dance, let's dive into this with a touch of realism and a sprinkle of pixie dust.
EPCOT lovers, I feel you! The anticipation has been as intense as we wait for the clock to strike midnight at Cinderella's ball. For years, we've all been holding our breath, eager to learn what Disney has up its sleeve for the beloved Imagination Pavilion. Rumors have been bouncing around like a balloon in a summer breeze, with whispers of a potential Figment farewell or a much-needed update for a ride that's been a fan favorite since the beginning.
But hang onto your Mouse ears, because this new permit might not be the grand reveal we've been dreaming of. While we'd love to believe in fairy tales coming true right this minute, it seems like we're in for a tad more waiting. This permit is likely to bring forth a renovation or the creation of a cozy meet-and-greet space. Yes, you read that right – it's time for a heartwarming rendezvous with some of your favorite characters!
Now, let's talk about who's RSVPing to this meet-and-greet party. Get ready to say to hopefully say "Cheese!" with the one and only Figment. Remember that lovable purple dragon who's been tickling our imaginations for years? Well, rumor has it he'll be back in action, making dreams come true "later this summer." And guess what? We've only got a whisker over 50 days left until the leaves start changing – you do the math!
But that's not all, folks. The celebration doesn't stop there. Imagine strolling into the Imagination Pavilion and locking eyes with none other than Mickey Mouse and Minnie Mouse! Hold onto your hats, because these iconic faces are gearing up to sprinkle some extra magic starting in September, just in time for the Disney100 festivities. Can you feel the excitement building?
Now, the permit doesn't exactly hand us the treasure map to this character-filled oasis, but there's a clue hidden within. The work is all about "Installation of Scenic Items," and our behind-the-scenes hero is none other than Bungalow Scenic Studios. These creative masterminds have already woven their magic in the Disney universe, leaving their mark on everything from Star-Lord's swanky meet and greet to the enchanting Frozen Sing-Along and the mischievously thrilling Hocus Pocus Villain Spelltacular.
And guess what? Bungalow Scenic Studios knows their way around the Imagination Pavilion too! They've previously sprinkled their creativity in the ImageWorks meet-and-greet space. Not to mention, they've conjured up temporary delights like those delightful step-in photo frames for Disney's seasonal shindigs. Oh, and remember the stage that made Disney's Animal Kingdom's 20th Anniversary bash unforgettable? Yup, that was their handiwork too!
So, while this permit might not be the grand reveal we've all been crossing our fingers for, it's a promise of something heartwarming, magical, and oh-so-Disney. Let's embrace the anticipation, keep our Mickey ears tuned, and wait for that moment when the curtains rise, and the characters step forward to greet us with open arms and timeless smiles. Until then, fellow dreamers, let's keep the spirit alive and the excitement buzzing – after all, the best Disney stories are worth the wait!