Plaza de la Familia: Celebrate the Beauty of Día de los Muertos at Disneyland Resort
Reading Time:
2
minutes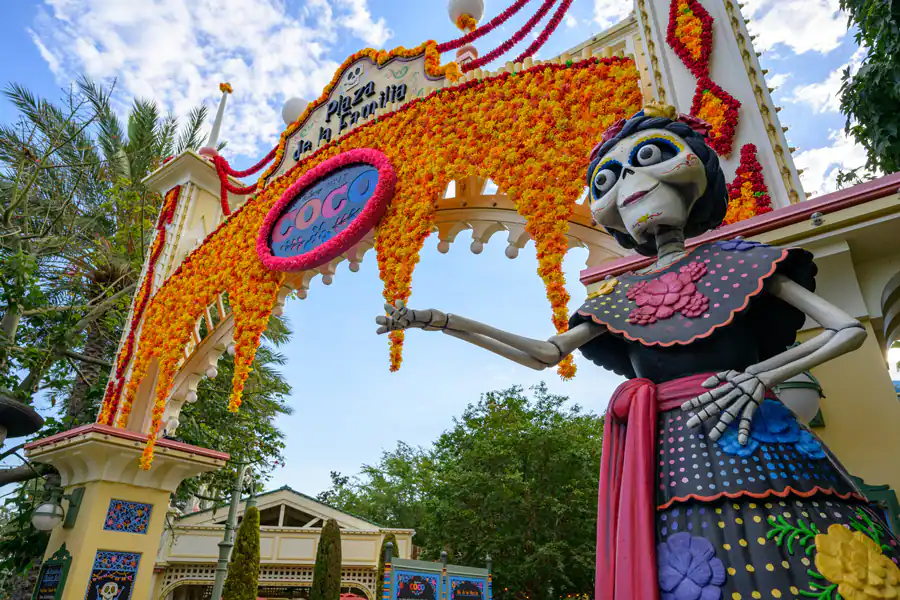 The rich and vibrant traditions of Día de los Muertos, also known as Day of the Dead, will come to life at Disneyland Resort this fall. From September 1 to November 2, immerse yourself in the enchanting Plaza de la Familia cultural experience, located in Paradise Gardens at Disney California Adventure Park. This celebration will feature dazzling marigolds, heartwarming entertainment, and engaging family crafts that pay homage to Mexican culture. And when hunger strikes, head over to Paradise Garden Grill to savor delicious menu items inspired by the vibrant flavors of Mexican cuisine.
Step into the world of Disney and Pixar's Academy Award-winning film, "Coco," as Plaza de la Familia showcases characters and music that celebrate the power of eternal love and the unbreakable bonds of family. Multiple times a day, be captivated by "A Musical Celebration of Coco," a stunning performance featuring a talented company of Folklórico dancers, along with Mariachi singers and musicians. This lively spectacle retells Miguel's extraordinary journey to the Land of the Dead, filled with vibrant colors, infectious rhythms, and heartfelt storytelling. Don't miss the chance to meet Miguel himself, dance along to the spirited Mariachi music, and contribute your own remembrance notes to the Memory Wall.
In Cars Land, Ramone's detailing shop will pay tribute to Día de los Muertos with a special "ofrenda," an altar dedicated to the beloved Doc Hudson. Experience the heartfelt connection between friends and honor the memory of a cherished member of the Radiator Springs community.
Over at Disneyland Park, Frontierland will come alive with the traditional and vibrant display of Día de los Muertos. Adorned with marigolds and intricately crafted banners known as papel picado, this tribute serves as a beautiful reminder of the enduring spirit and significance of this Mexican holiday.
Plaza de la Familia and the tributes throughout Disneyland Resort offer a unique opportunity to embrace the cultural heritage of Día de los Muertos and celebrate the importance of family, love, and remembrance. From the lively performances to the stunning decorations, every aspect of this experience invites guests of all ages to immerse themselves in the beauty and meaning of this cherished tradition. The magic of Plaza de la Familia awaits you!