Unveiling the Multiverse King Thanos Ride: A Sneak Peek into the Future of Avengers Campus!
Reading Time:
2
minutes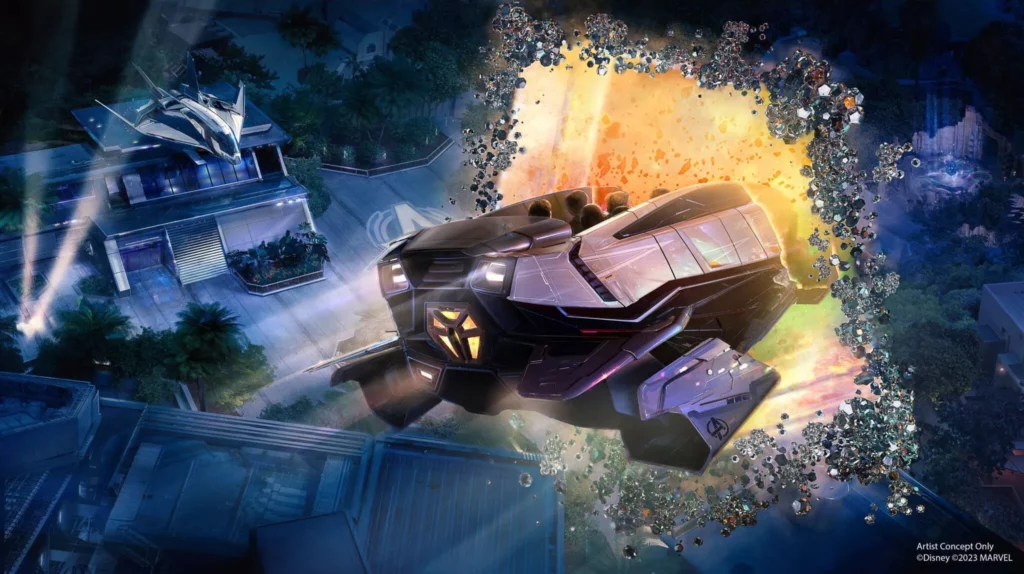 Hey there, Marvel fans! If you've been eagerly waiting for the next big thing at Disney California Adventure's Avengers Campus, I've got some exciting news for you. On Saturday, September 9, 2023, during the Destination D23 event, Disneyland gave us a thrilling glimpse into the future with details about the upcoming attraction that's sure to blow your mind – the Multiverse King Thanos Ride!
Introducing the Multiverse King Thanos Ride Vehicle
Imagine a ride vehicle that can transport you not just across the Earth but through different dimensions and realities. Well, that's exactly what Disneyland has in store for you! As revealed in the artist's concept, the brilliant minds of the Marvel Universe's heroes have teamed up to create a jaw-dropping ride vehicle.
This vehicle is nothing short of a technological marvel. It fuses Tony Stark's iconic time-suits, the Xandarian jump points known for their interstellar travel capabilities, and Wakandan cutting-edge technology. The result? A vehicle that blends portal technology and flight capabilities, allowing it to navigate the skies with ease and whisk you away to distant worlds in the blink of an eye.
A Glimpse into the Future
While we don't have all the juicy details just yet, this sneak peek has us brimming with anticipation. The Multiverse King Thanos Ride promises to be an immersive experience that will make you feel like a true Marvel hero. Picture yourself soaring through the multiverse, encountering familiar faces and new challenges, all while witnessing the stunning landscapes of various dimensions.
As you can imagine, this ride is set to be a heart-pounding, mind-bending adventure that will leave you in awe of the creative genius behind it. It's yet another reason to get excited about the ever-expanding world of Avengers Campus!
Stay Tuned for More
If you're as excited as we are (and we're pretty hyped!), mark your calendars and keep your eyes peeled for further updates on the Multiverse King Thanos Ride. As Disney continues to work its magic, we can't wait to see what surprises they have in store for us.
In the meantime, make sure to revisit your favorite Marvel comics and movies to refresh your knowledge of the multiverse, because when this attraction finally opens its doors, you'll want to be fully prepared for the adventure of a lifetime.
So, fellow Marvel fans, get ready to embark on an incredible journey through the multiverse with the Multiverse King Thanos Ride. It's a thrilling ride that promises to redefine theme park experiences, and we can hardly wait to buckle up and take that leap into the unknown. Excelsior!
Looking To Book Your Dream Disney Vacation?