2023 Disney World Gingerbread Displays: A Sweet Holiday Spectacle
Reading Time:
3
minutes
Hey, Disney vacationers! I'm super excited to share with you the latest scoop on the Disney World Gingerbread Displays for the 2023 holiday season. If you're a fan of all things sweet and magical, you're going to love this!
First off, let's talk about the star of the show at Disney's Grand Floridian Resort & Spa – their life-sized Gingerbread House. It's back for its 24th year, running from Nov. 8 through Jan. 1, 2024. This isn't just any gingerbread house; it's a masterpiece adorned with white chocolate candy canes, edible snowflakes, sugar poinsettias, and a whopping 10,000 pieces of gingerbread. And get this – there's an 85 lb. chocolate Santa! Everything is hand-painted by the talented Grand Floridian Bakery team, led by Pastry Chef de Cuisine Kristine Farmer. They've put in over 500 hours of baking and 480 hours of decorating. And for a bit of fun, try to spot the 24 hidden Mickeys in the display!
If you're like me and can't resist taking a piece of this magic home, you're in luck. The Grand Floridian Gingerbread House has a mouth-watering menu of treats for purchase. We're talking Gingerbread Mickeys, Stollen Bread, Brownie Christmas Trees, and so much more. They even have plant-based and gluten-friendly options!
Next up, we have the Lighthouse at Disney's Yacht Club Resort. This is a brand-new addition, and it's a must-see. Pastry Chef de Cuisine Michael Craig used the actual blueprints of the real lighthouse for this creation. And yes, you can buy Lighthouse Fudge at their Holiday Pop-Up Shop.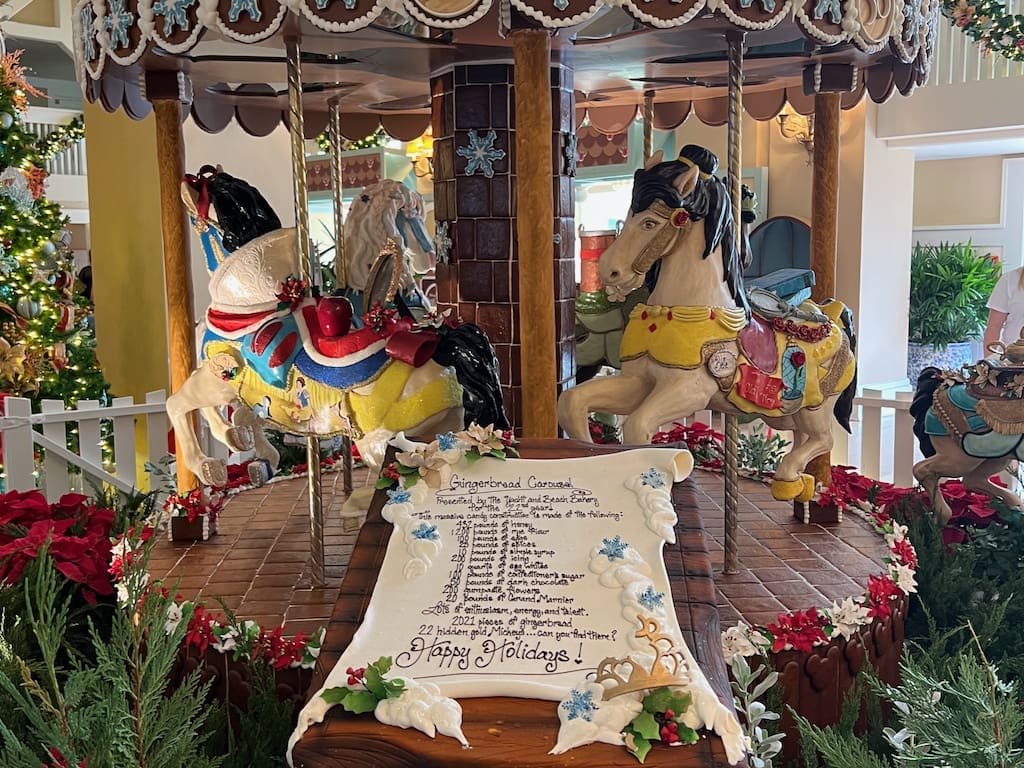 Over at Disney's Beach Club Resort, the Holiday Carousel gingerbread display is a classic. This year, it's Ducktales-themed with Donald Duck and his nephews. It's a moving carousel, folks! Plus, they've hidden 22 Mickeys for you to find.
Don't forget to check out Disney's BoardWalk Inn. Their display is a mini version of the BoardWalk itself and features treats like Mickey and Minnie Sugar Cookies and Peppermint Bark.
And for something truly unique, head over to Disney's Animal Kingdom Lodge. They have a Life-Size Baby Gingerbread Giraffe and Baby Zebra, made by Pastry Chef Lexy Ross and her team. These adorable creations are not just for show – you can grab Gingeraffe Cookies and more!
Disney's Contemporary Resort is also joining in with its 12th annual gingerbread display. This year, it's a Mary Blair-inspired 100th Celebration-themed Castle Display. It's over 17 feet tall and has 12 hidden five-legged goats. The menu here includes Gingerbread Castle Bricks and a Gingerbread Latte Cupcake, among other delights.
Last but not least, The American Adventure in EPCOT has a unique display featuring gingerbread versions of American monuments. It's a fun way to explore history and enjoy some sweet treats.
So, there you have it – a whirlwind tour of the Disney World Gingerbread Displays for 2023. Whether you're a gingerbread enthusiast or just love the magic of Disney during the holidays, these displays are a must-visit. Happy holidays and happy exploring!
Looking To Book Your Dream Disney Vacation?
Meet the Author: Nate Bishop
I'm a die-hard Disney fan with 38 years of visits under my belt, having stepped into Disney World 120+ times. Proud to be a Disney Annual Passholder, a Vacation Club member since '92, a Castaway Club Member, and a runDisney enthusiast. Oh, and I've graduated from the Disney College of Knowledge. Need Disney insights or planning tips? I'm your guy!