Best Family Resorts: 6 Disney Vacation Club Resorts Highlighted
Reading Time:
3
minutes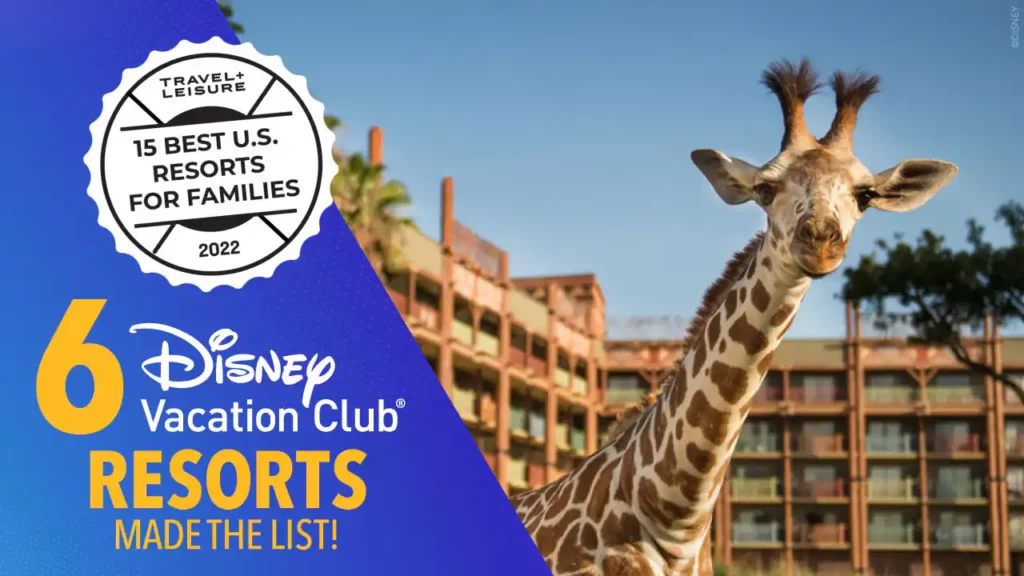 When it comes to family vacations, creating enchanting memories that last a lifetime is paramount. That's why six Disney Vacation Club resorts have been recently recognized as Travel + Leisure Co.'s 15 Best U.S. Resorts for Families in 2022. If you haven't had the chance to experience these extraordinary destinations, let us take you on a journey through each magical locale that serves as the perfect backdrop for your family's unforgettable adventures.
Aulani, a Disney Resort & Spa in Ko Olina, Hawai'i
Nestled in Ko Olina, Hawai'i, Aulani Resort artfully combines the rich culture of the islands with the touch of Disney magic. Prepare to be captivated by a plethora of activities suited for every member of your 'ohana, from snorkeling in the Rainbow Reef lagoon to indulging in the award-winning Laniwai Spa. Immerse yourself in the breathtaking storytelling of KA WA'A – A Lū'au, where traditional Hawaiian legends come to life. And don't forget to experience the sheer comfort and convenience of Disney Vacation Club villas, some of which feature full kitchens, washers and dryers, and relaxing whirlpool tubs.
Disney's Grand Californian Hotel & Spa in the Disneyland Resort
Located beside Disney California Adventure Park, Disney's Grand Californian Hotel & Spa invites you to celebrate the Golden State in style. The hotel's guest rooms offer spectacular views of the theme park, while its Craftsman-style lobby welcomes you with live music and a warm ambiance. Unwind and soak up the Californian sunshine by taking a dip in one of the three inviting pools. For a delightful dining experience, indulge in a buffet breakfast adventure at the beloved Storytellers Café. And for adults seeking a luxurious escape, the Tenaya Stone Spa and the award-winning Napa Rose restaurant promise an indulgent retreat during your Disneyland vacation.
Disney's Animal Kingdom Lodge in the Walt Disney World Resort
Prepare to embark on a wild adventure at Disney's Animal Kingdom Lodge in the heart of the Walt Disney World Resort. With sweeping savanna views and over 200 animals and birds residing within the resort, you'll feel like you're on an African safari. Scan a QR code on your mobile device to access a digital Wildlife Field Guide, enhancing your exploration and understanding of the diverse wildlife. Join guided programs led by cultural representatives and discover the magic of the savanna overlooks. Retreat to your spacious villa and savor the beauty of nature in unparalleled comfort.
Disney's Beach Club Resort at the Walt Disney World Resort
Inspired by New England charm, Disney's Beach Club Resort is a delightful retreat just steps away from EPCOT and Disney's Hollywood Studios. Dive into the splendor of Stormalong Bay, a three-acre pool area featuring pools, a lazy river, and an exhilarating 230-foot waterslide descending from a life-size shipwreck replica. For a culinary adventure, head to Beaches & Cream Soda Shop and challenge yourself with the legendary "Kitchen Sink" sundae, a treat fit for the whole family. With the resort's idyllic location and fantastic amenities, your vacation will be filled with endless fun and relaxation.
Disney's Hilton Head Island Resort in Hilton Head Island, South Carolina
Discover a touch of Disney magic on the picturesque shores of South Carolina at Disney's Hilton Head Island Resort. With access to 12 miles of sandy beaches, bike trails, fishing excursions, and outdoor movie nights, there's an abundance of outdoor activities for the entire family. Golf enthusiasts can tee off at nearby courses or even attend South Carolina's premiere PGA Tour event in Harbour Town. Unwind in the tranquil surroundings and let the resort's serene beauty transport you to a world of seaside bliss.
Disney's Vero Beach Resort in Vero Beach, Florida
Located just two hours away from Walt Disney World, Disney's Vero Beach Resort offers a serene retreat along Florida's pristine Atlantic coastline. The resort's unique appeal lies in its proximity to one of Florida's most active sea turtle nesting areas. Join the Disney Conservation team to learn more about these incredible creatures and the beach ecosystem through the resort's sea turtle nesting experiences. Enjoy the tranquility of the beach, indulge in seaside adventures, and embrace the beauty of nature in this idyllic coastal haven.
Embarking on a Disney Vacation Club adventure means immersing your family in the wonder and enchantment of these extraordinary resorts. From the captivating beauty of Aulani in Hawai'i to the wild charm of Disney's Animal Kingdom Lodge, each destination offers a unique experience that will create cherished memories for years to come. Discover the magic of Disney Vacation Club resorts and let your family's dreams come true in these extraordinary locales.