Discover the New Flavorful Delights at Three Bridges Bar and Grill at Villa del Lago
Reading Time:
3
minutes
Are you ready to embark on a culinary adventure that's all about good vibes and great flavors? Well, get ready because Three Bridges Bar and Grill at Disney's Coronado Springs Resort is adding some delectable dishes to its already mouthwatering menu. The best part? You can conveniently order your food via mobile too!
Starters That Make Your Taste Buds Dance
Let's dive right into these delectable starters! First up, the Korean Fried Chicken Bao Buns. These little bites of heaven come with lime mayo, sweet-and-spicy gochujang sauce, 'kimchi' pickles, and radish – a perfect balance of flavors. And if you're a fan of ribs, the Tamarind Soy-glazed Pork Ribs with scallions, pickled fresno chili, and cilantro will tantalize your taste buds.
Now, if you're a ceviche enthusiast or just want to try something new, the Ceviche Classico is a must-try. It features kona kampachi, sweet potato, cancha, red onion, chile, and leche de tigre. Trust me, you'll be saying "yes" three times over!
Salads That Satisfy
For a refreshing salad, the Villa del Lago Wedge Salad is a top pick. It combines baby iceberg lettuce, chorizo, bleu cheese, and marinated tomatoes topped with avocado dressing. If you want a little extra protein, you can have it with grilled shrimp or grilled chicken.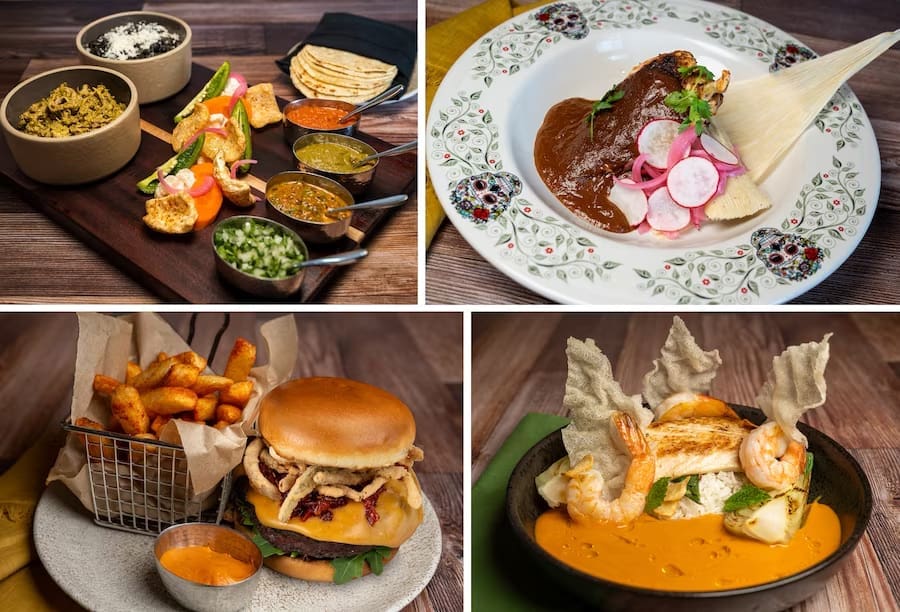 Irresistible Entrées
Now, it's time for the main event – the entrées! Few things beat the satisfaction of a good taco, and the new Pork Carnitas Tacos are no exception. They come with a trio of sauces, cotija cheese, pickled vegetables, and are served with black beans and rice. These tacos are truly a fiesta on a plate. And don't miss out on the Chicken Mole Poblano, served with a sweet corn-Oaxacan cheese tamale and a rich mole poblano sauce.
Burger Bliss
Are you in the mood for a burger? The Three Bridges Signature Burger is not your average burger. Topped with bacon marmalade, sun-dried tomato jam, smoked gouda queso, crispy vegetables, and arugula, and served with smoked paprika fries, it's a burger lover's dream come true.
Seafood Sensation
For the seafood fans, the Plancha-seared Mahi Mahi and Shrimp is a must-try. It's expertly paired with basmati rice, bok choy, Thai red coconut-curry sauce, and mint, creating a delightful fusion of flavors.
Plant-Based Options
Plant-based diners, don't worry! Your favorite bites like Guacamole, Roasted Corn Dip, and 'Poke' Bowl with tofu are still on the menu, so you can continue to savor your preferred plant-based treats.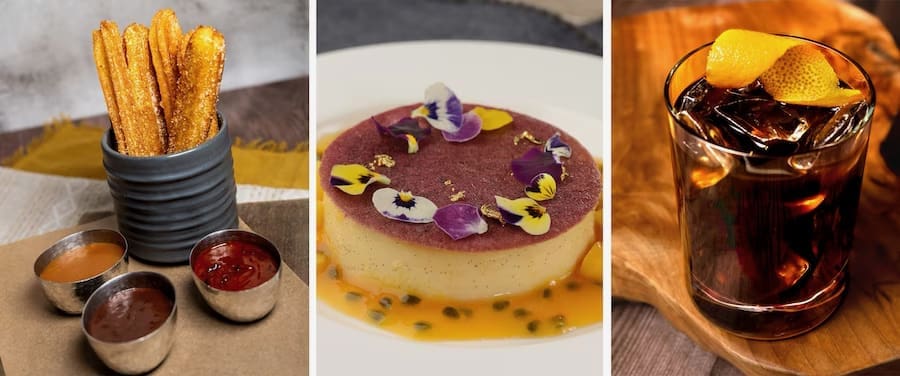 Sweet Endings
No meal is complete without a sweet treat. The Warm Churros, now accompanied by three delightful dipping sauces – tequila caramel, spiced chocolate, and mango-chamoy – are sure to satisfy your sweet tooth. Another dessert worth savoring is the Coconut Flan with passionfruit sauce, mango, and hibiscus. Originally introduced for Women's History Month, it has now found a permanent home at Three Bridges Bar and Grill.
Quench Your Thirst
Before you leave, make sure to try the three new beverages on the menu. The Cold Brew Old Fashioned is a delightful blend of SelvaRey Chocolate Rum, Tia Maria Coffee Liqueur, Joffrey's Mexican Femenino Cold Brew, and Hella Cocktail Co. Orange Bitters. If you prefer something with a red wine twist, the Tinto de Verano combines red wine, Combier Creme de Mure, Minute Maid Premium Lemonade, and Sprite – a refreshing Spanish classic. And, for a non-alcoholic tropical delight, the Tropical Coconut Cooler, featuring coconut, orange, pineapple, and lime juices with a salt rim, will quench your thirst perfectly.
So, what are you waiting for? Head over to Three Bridges Bar and Grill at Villa del Lago, starting October 11, 2023, and treat your taste buds to these fantastic new dishes and beverages. Good vibes and good flavors await you at every corner!
Looking To Book Your Dream Disney Vacation?