Foodies Rejoice: Prepare to Feast on New Menu Items at Contempo Cafe
Reading Time:
3
minutes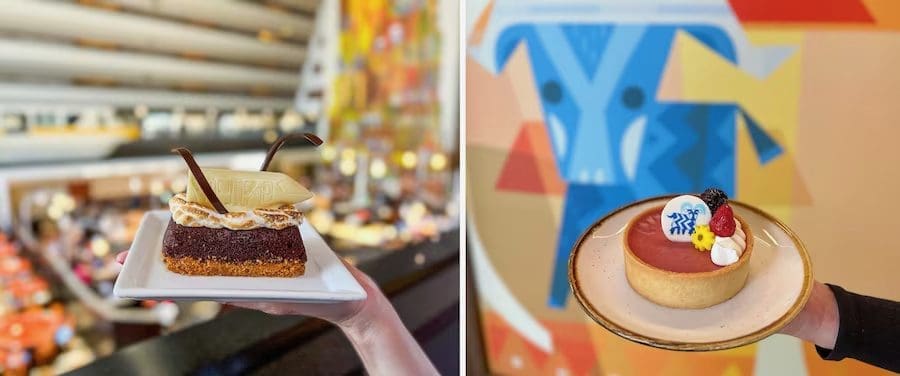 Are you ready for an unforgettable culinary journey that will tantalize your taste buds and leave you craving for more? Look no further than the Contempo Café at Disney's Contemporary Resort, where a symphony of flavors awaits to enchant your senses. Get ready to embark on a tasty adventure like no other as we unveil an array of delectable delights that will surely leave you hungry for a taste.
Starting on August 16, 2023, prepare to be amazed by the newest additions to the Contempo Café's menu – a collection of mouthwatering creations that range from sweet indulgences to savory delights. Whether you're an early riser seeking a satisfying breakfast or a devoted dessert enthusiast, there's something here for everyone.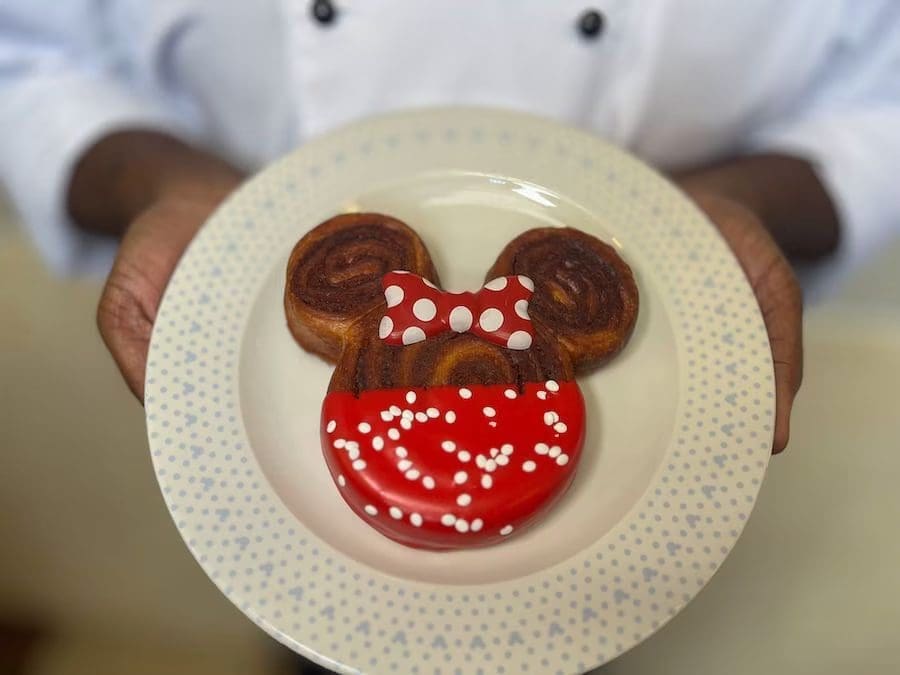 Kickstart your day with a burst of flavor by diving into the Minnie Cinnamon Roll. This delightful treat, dipped in creamy white chocolate, is a sweet symphony that will have your taste buds dancing with joy. If savory is more your style, the Breakfast Flatbread is here to satiate your morning cravings with its perfect blend of flavors.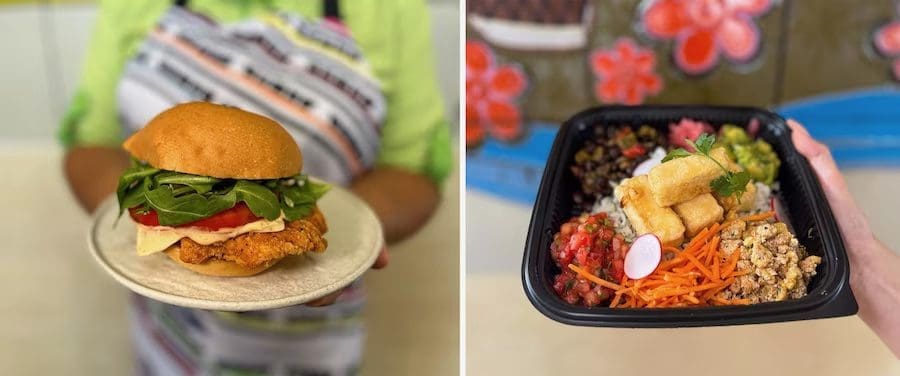 As the day progresses, lunch and dinner bring a parade of savory sensations. The classic Four-Cheese Grilled Cheese & Tomato-Basil Soup receives a contemporary twist, while the new Spicy Chicken Sandwich, featuring a crispy chicken breast adorned with pepper jack, chipotle rémoulade, arugula, and more, adds a fiery kick to your meal. But the showstopper? The Signature Rice Bowls, an explosion of flavors and textures, featuring cilantro-lime rice, black beans, street corn, avocado, pico de gallo, carrot, and pickled red onion, crowned with your choice of protein.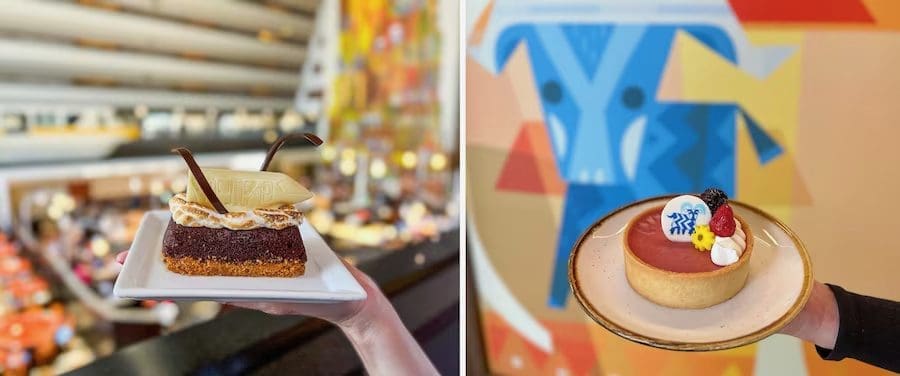 Now, let's talk about the grand finale – desserts that will transport you to a realm of pure indulgence. The Monorail S'more Brownie pays homage to the iconic monorail that glides overhead, featuring a fudgy brownie with a graham cracker crust, topped with marshmallow crème and chocolate décor. For those who crave a fruity sensation, the 5-Legged Goat Fruit Tart is a visual and culinary masterpiece, boasting a vanilla tart shell filled with raspberry-lemon curd, crowned with fresh fruit and lemon whipped cream.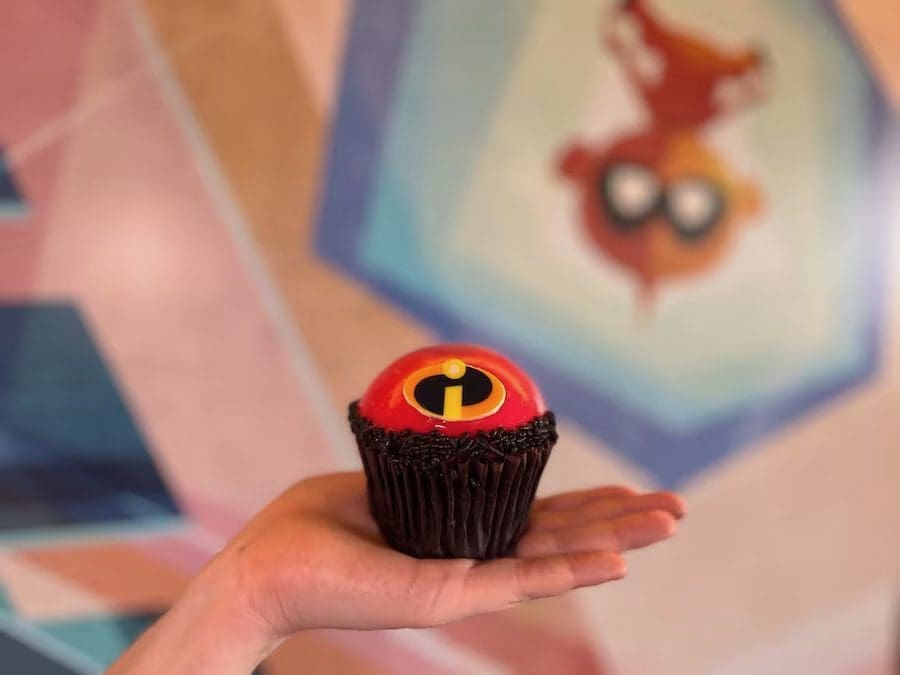 Calling all chocolate aficionados! The Jack-Jack Cookie Num Nums Cupcake, inspired by The Incredibles, offers a heavenly combination of a chocolate cupcake and chocolate chip cookie dough mousse. But the surprises keep coming with the Chocolate Peanut Butter Bar – a plant-based delight that's also gluten and wheat friendly.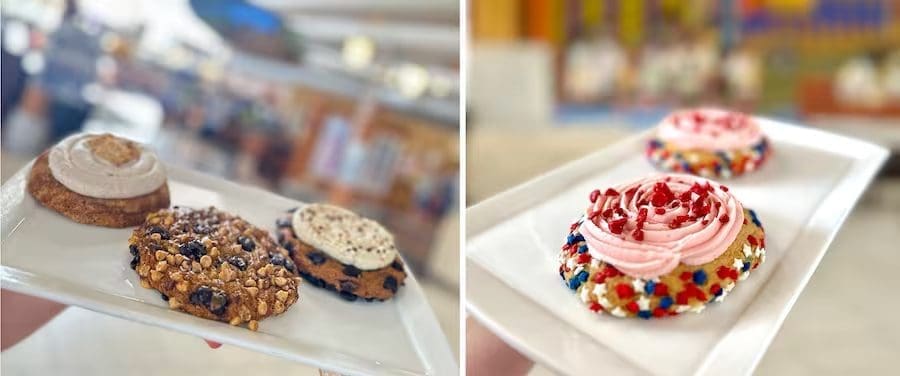 Cookie lovers, rejoice! The Signature Deluxe Cookies are a trio of cookie heaven, featuring a Chocolate Chunk Cookie with peanut butter buttercream, a Churro Cookie with cinnamon buttercream, and the show-stopping Kitchen Sink Cookie, packed with an array of delectable ingredients. And for a limited time, the Strawberry Lemonade Sugar Cookie adds a burst of summer to your palate.
Prepare to be wowed by the culinary enchantment that awaits you at Disney's Contemporary Resort's Contempo Café. These sensational creations are a testament to the imagination and skill of the culinary teams, who have poured their hearts into crafting a menu that transcends ordinary dining. So, if you're ready to embark on a flavorful journey that will leave you craving for more, make sure to experience the magic at Contempo Café. Your taste buds will thank you, and your senses will forever remember this delectable adventure in the heart of Disney's wonderland.