Get Ready for the Toe-Tappin' Country Bear Musical Jamboree at Disney World in 2024!
Reading Time:
2
minutes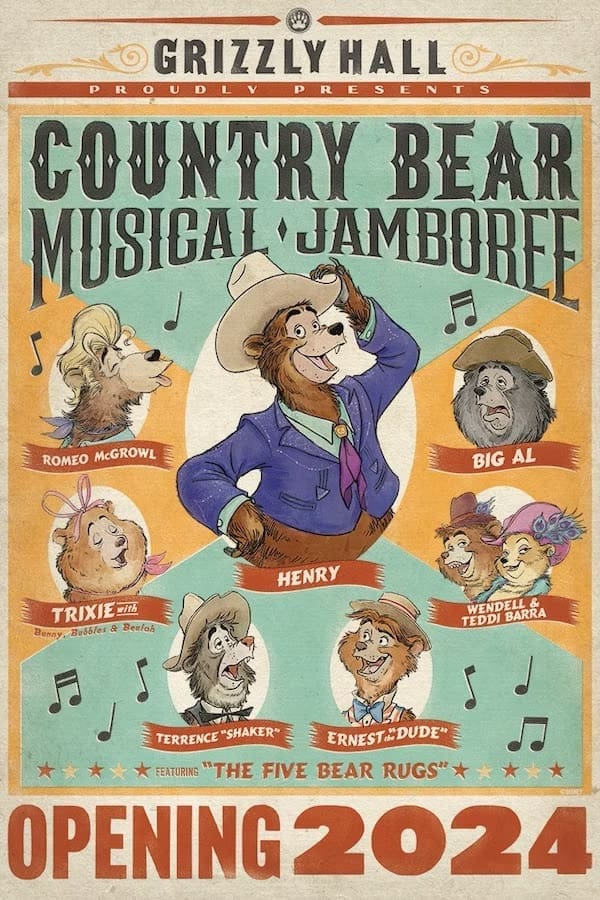 Hey there, Disney fans and bear-loving folks! I've got some exciting news straight from the Magic Kingdom itself: Disney World is set to transform the beloved Country Bear Jamboree into a whole new musical extravaganza called the Country Bear Musical Jamboree, and it's all happening in 2024! Grab your cowboy boots and get ready for a toe-tappin' good time.
Imagineer Chris Beatty recently spilled the beans at Destination D23, and I've got all the juicy details. When the curtain rises on this fantastic show, those adorable bears we all know and love will be taking the stage to reinterpret some of our favorite Disney songs in various genres of country music. Get ready to groove to rockabilly, sway to bluegrass, and sing along to pop-country hits as the bears put their unique spin on these classics.
But that's not all – Disney is pulling out all the stops to ensure this new musical spectacle captures the essence of country music. They're teaming up with real Nashville musicians to infuse that authentic country sound into the show. So, you can expect twangy guitars, soulful fiddles, and that unmistakable Southern charm to fill the air.
The best part? Despite the exciting changes, the Country Bear Musical Jamboree will retain the same fun and friendly tone we've cherished for years. You'll still get to hang out with all your favorite bear characters, and their endearing antics will have you grinning from ear to ear.
Imagineers behind this transformation are drawing inspiration from the iconic Grand Ole Opry in Nashville, making this new experience a heartfelt homage to the heart of country music. It's like bringing a slice of Nashville right into the heart of Disney World!
So, mark your calendars and start practicing your best line dance moves because the Country Bear Musical Jamboree is set to be a must-see attraction in 2024. Whether you're a country music aficionado or just looking for a good ol' time with Disney's lovable bears, this show promises to be a hit.
Stay tuned for more updates as we get closer to the big debut, and get ready to two-step your way into a musical adventure like no other at Disney World! Yeehaw!
Looking To Book Your Dream Disney Vacation?