Get Ready to Dive into the Marvel Multiverse with Disney's King Thanos Attraction!
Reading Time:
2
minutes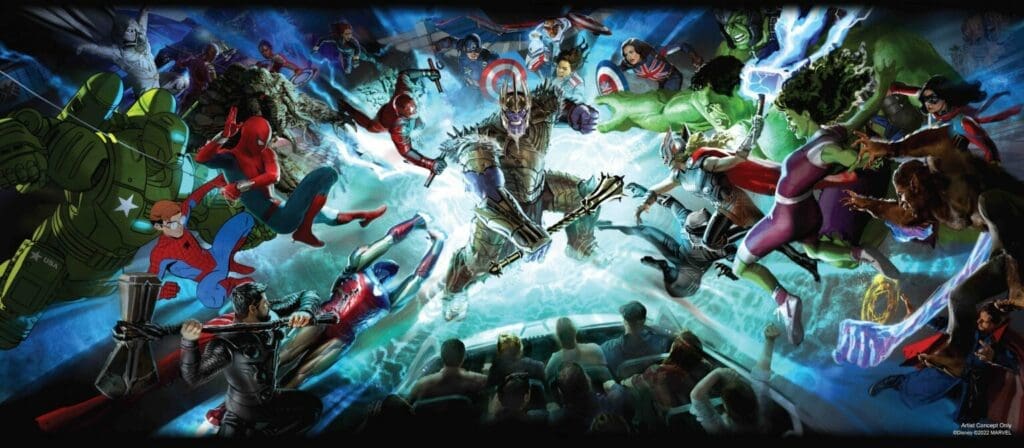 Hey there, Disney fans! Get ready to have your minds blown because Walt Disney Imagineering has just dropped some exciting details about the upcoming King Thanos attraction at Disney California Adventure. If you thought the Disney park rides were cool before, you ain't seen nothing yet!
So, what's all the fuss about? Well, this new ride promises to take you on a wild journey through different worlds and realities, all thanks to the magic of "large-scale built environments and immersive media." Think about it as a rollercoaster ride through the Marvel Multiverse – it's going to be an epic adventure, folks!
Now, if you're wondering what exactly "large-scale built environments and immersive media" mean, just imagine the incredible sets and technology they used in rides like Pirates of the Caribbean: Battle for the Sunken Treasure in Shanghai Disneyland or Star Wars: Rise of the Resistance in Star Wars: Galaxy's Edge. Yeah, it's going to be that mind-blowing!
Unfortunately, we're still in the dark about most of the ride's details, but we do have some pretty sweet concept art to get us hyped up. From what we can see, this attraction will bring together a bunch of your favorite heroes from different mediums to take on the mighty Thanos.
But here's the kicker – at this year's Destination D23 event, they gave us a sneak peek at the ride's vehicle, and it's nothing short of incredible! As you can see in the concept art, our heroes have cooked up a vehicle that can hop between worlds and realities. It's like Tony Stark's time-suits met Xandarian jump points and Wakandan technology at a cosmic crossroads. The result? A super cool vehicle that can create portals and soar through the skies, taking our heroes to distant worlds in the blink of an eye.
So, get ready to suit up and join your favorite Marvel heroes in an epic showdown against Thanos. With this mind-bending ride, Disney is about to take theme park attractions to a whole new dimension – literally! Keep an eye out for more info, and mark your calendars for the grand opening. This is one Marvel adventure you won't want to miss!
Looking To Book Your Dream Disney Vacation?