Just Announced: EPCOT's Candlelight Processional with Exciting New Narrators!
Reading Time:
3
minutes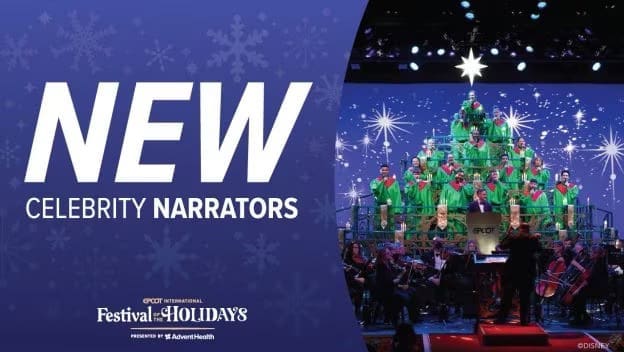 The holiday season is upon us, and what better way to get into the Christmas spirit than by witnessing EPCOT's Candlelight Processional? If you've never been, you're in for a real treat, and if you're a returning fan, get ready for a whole new level of excitement. This beloved event, which has captured the hearts of guests for years, is back with a bang! Picture this: a moving retelling of the Christmas story, featuring a charismatic narrator, an awe-inspiring choir, a 50-piece orchestra, herald trumpets, and the enchanting Voices of Liberty. The result? An unforgettable spectacle that's sure to leave you with warm, fuzzy feelings.
But here's the icing on the holiday cake – this year, the EPCOT's Candlelight Processional boasts a star-studded lineup of celebrity narrators that's bigger and better than ever before. I've got nine new voices joining the ranks of captivating storytellers who are here to share the universal message of this heartwarming story.
Curious about who's on the roster? Well, here's a sneak peek at the full list of this year's celebrity narrators, so you can start planning your visit:
Chrissy Metz (NEW): Nov. 24-25
Get ready for a heartfelt narration that's sure to tug at your heartstrings.
Luis Fonsi (NEW): Nov. 26-27
The renowned singer-songwriter is set to bring his unique charm to the stage.
Ann-Margret (NEW): Nov. 28-29
A legendary actress, this is an opportunity to experience a true Hollywood icon.
Simu Liu: Nov. 30-Dec. 2
The star of "Shang-Chi" and "Kim's Convenience" will take you on a thrilling storytelling journey.
John Stamos: Dec. 3-5
Our favorite Uncle Jesse from "Full House" is sure to make this a memorable experience.
Neil Patrick Harris: Dec. 6-8
Prepare for some legendary entertainment and humor with NPH.
Marlee Matlin: Dec. 9-11
The Oscar-winning actress is bound to deliver a moving and powerful performance.
Brendan Fraser (NEW): Dec. 12-14
A new face to the Candlelight Processional, we're excited to see what Brendan brings to the stage.
Eva Longoria (NEW): Dec. 15-16
The multi-talented actress and producer is sure to light up the night.
Joey McIntyre (NEW): Dec. 17-18
As a member of New Kids on the Block, Joey knows how to entertain a crowd.
Sterling K. Brown (NEW): Dec. 19-20
This Emmy-winning actor will undoubtedly leave you spellbound.
Jordan Fisher (NEW): Dec. 21-23
Known for his roles in "Teen Beach Movie" and "Rent Live," Jordan is sure to captivate the audience.
Steven Curtis Chapman: Dec. 24-26
The award-winning musician is ready to bring his unique style to the Christmas story.
Audra McDonald (NEW): Dec. 27-28
A Broadway sensation, Audra's performance is bound to be nothing short of extraordinary.
Lisa Ling: Dec. 29-30
The renowned journalist and TV host will conclude this year's celebrations in style.
But here's a little tip to ensure you don't miss out on the magic – Candlelight Processional Dining Packages will be available starting on October 17. These packages are your golden ticket to securing a prime seat for the performance. You can choose from seven distinctive eateries, each offering a unique dining experience. Whether you prefer character dining with Chip 'N' Dale's Harvest Feast at Garden Grill Restaurant in The Land pavilion or crave a more upscale dining adventure at Le Cellier Steakhouse in the Canada pavilion, there's something to suit every taste. With options for breakfast, lunch, and dinner, it's easy to find a package that fits your schedule.
So, make your plans, mark your calendars, and get ready for an unforgettable holiday experience at EPCOT's Candlelight Processional. With an array of new celebrity narrators and dining packages on the horizon, it's the perfect way to create lasting memories with loved ones during this special season. Don't miss out on the magic – it's an experience you'll treasure for years to come!
Looking To Book Your Dream Disney Vacation?