NEW MENU: A Flavorful Adventure Awaits at Harambe Market!
Reading Time:
2
minutes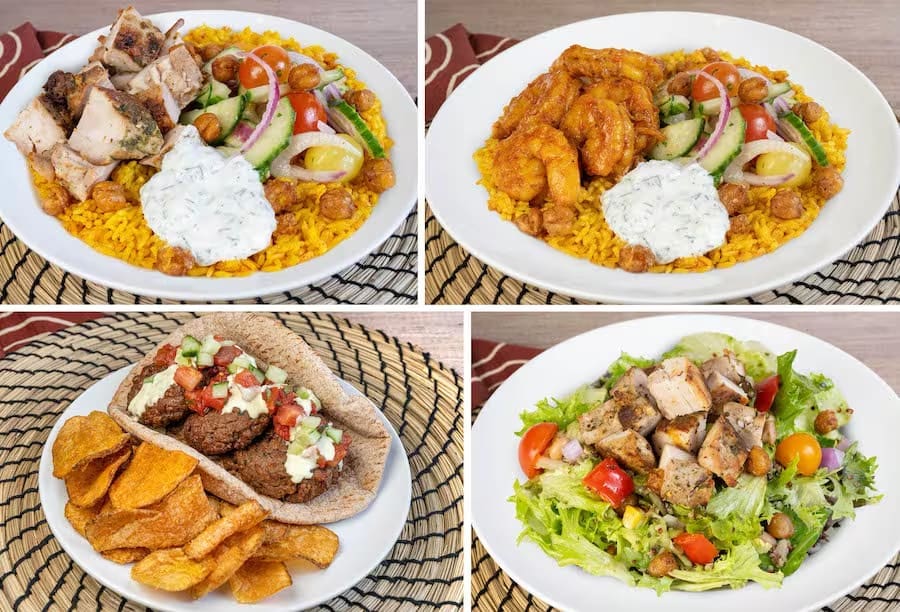 Hey Disney foodies! If you're looking for a culinary adventure, then you're in for a treat at Harambe Market. This vibrant, open-air spot is a treasure trove of African-inspired delights, and trust me, it's a feast for both the eyes and the taste buds.
New Rice Bowls to Bowl You Over!
Starting this week, October 11, 2023, the market is rolling out some scrumptious rice bowls that are sure to tantalize your palate. Whether you're in the mood for the Chicken and Shrimp Rice Bowl, the solo Chicken Rice Bowl, or just the Shrimp Rice Bowl, you're in for a treat. Imagine a bed of jollof rice paired with a refreshing kachumbari tomato salad and creamy tzatziki sauce. And the best part? You get to pick your protein – chermoula-marinated chicken, spicy peri peri-marinated shrimp, or why not both? Oh, and for the little ones, there's a special Shrimp and Rice Bowl that comes with peri peri-marinated shrimp, fluffy white rice, and a juicy Cuties Mandarin Orange on the side.
But Wait, There's More!
For those who love a good pita, the new Beef and Lamb Kofta Pita is a game-changer. Picture this: house-made beef and lamb kofta, drizzled with cool tzatziki sauce and chermoula, all wrapped up with some irresistible house-made chips. Yum! And for our plant-based pals, the IMPOSSIBLE Kofta Pita is a dream come true. It's packed with IMPOSSIBLE kofta, plant-based aïoli, chermoula, and those addictive chips.
Salads and Sweets to Complete the Feast!
Salad enthusiasts, the Harambe Salad with Chicken is calling your name. It's a delightful mix of chermoula-marinated chicken, quinoa, grilled corn, black-eyed peas, and crispy chickpeas, all drizzled with a zesty chermoula-herbed vinaigrette. And if you're more of a seafood person, you can even top it off with shrimp.
And for the grand finale, the Mango Passion Fruit Cheesecake is a slice of heaven. It's the perfect blend of tangy and sweet, and honestly, who can resist the combo of mango and passion fruit?
So, next time you're around, make sure to swing by Harambe Market. Your taste buds will thank you!
Looking To Book Your Dream Disney Vacation?
Meet the Author: Nate Bishop
I'm a die-hard Disney fan with 38 years of visits under my belt, having stepped into Disney World 120+ times. Proud to be a Disney Annual Passholder, a Vacation Club member since '92, a Castaway Club Member, and a runDisney enthusiast. Oh, and I've graduated from the Disney College of Knowledge. Need Disney insights or planning tips? I'm your guy!