Reservations Now Open For Ferrytale Fireworks: A Sparkling Dessert Cruise
Reading Time:
2
minutes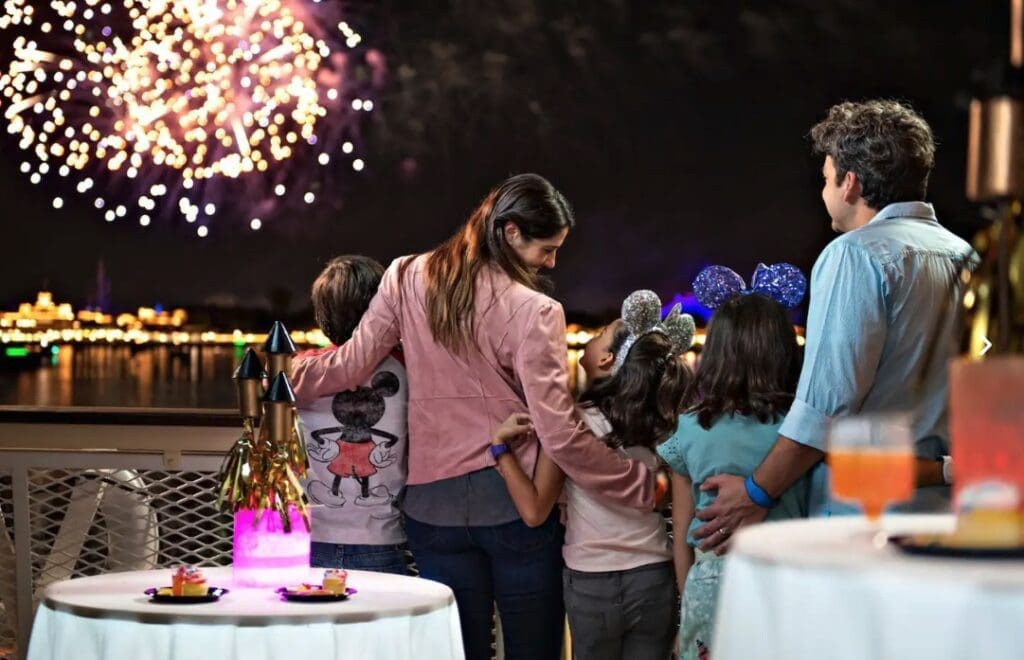 When it comes to creating enchanting and unforgettable experiences, Disney never disappoints. For those seeking a truly unique view of the nightly fireworks show at Magic Kingdom, there's an experience that promises to take your breath away. Welcome aboard the Ferrytale Fireworks: A Sparkling Dessert Cruise. After undergoing a months-long refurbishment, this captivating journey is ready to delight guests once again, starting from July 12th onward. Let's explore the magic that awaits.
An Enchanting Sail Awaits
Prepare to embark on a magical adventure as you climb aboard one of Disney's most iconic ferryboats, sailing gracefully across the shimmering Seven Seas Lagoon. The journey begins with a check-in at the Transportation and Ticket Center, where a refreshing beverage awaits to greet you. While you savor your drink, the ferryboat's crew will regale you with an entertaining backstory of the vessel's own magic, setting the stage for the enchantment to come.
Delightful Culinary Offerings
As the ferryboat sets sail, the celebration continues with an exquisite selection of international cheeses and delectable desserts. Crafted by Disney's talented pastry team, these sweet treats are sure to please your palate. To complement the experience, a range of specialty drinks, inspired by the sparkling shooting stars of the fireworks, are available for you to choose from. Guests over 21 years old can indulge in the selection of alcoholic beverages. For the little ones, an ultraviolet scavenger hunt adds an extra touch of adventure and excitement. Whether you're sipping on a signature drink, savoring a delectable sweet, or uncovering blacklight clues, you become a part of the magnetic magic that makes this cruise truly special and one-of-a-kind.
A Spectacular Finale
As the night sky over Cinderella Castle comes alive with a breathtaking display of fireworks, make sure to secure a spot along the ferryboat's railing. Slip on a pair of "Mickey Vision" glasses for a transformative viewing experience that will delight and mesmerize you in the most delightful way possible. The grand finale will leave you spellbound, as bursts of color and light dance through the air, creating an unforgettable memory to cherish forever.
Pricing and Reservations
Ferrytale Fireworks: A Sparkling Dessert Cruise takes place on select Wednesday and Saturday nights. To secure your spot, advance reservations are highly recommended. You can find out when advance reservations open by visiting the Disney World website or through your Disney Vacation Planner. Limited same-day reservations can also be made before 5:00 PM, subject to availability. The price of this magical experience is $130 for adults and $100 for children aged 3 to 9, with tax and gratuity included. Don't miss this opportunity to be a part of a truly enchanting journey.
Immerse yourself in the world of Disney magic like never before with the Ferrytale Fireworks: A Sparkling Dessert Cruise. From the moment you step aboard the iconic ferryboat, you'll be transported to a realm of wonder and delight. Indulge in delightful culinary offerings, uncover hidden clues, and witness the sky come alive with a mesmerizing fireworks display. This is an experience that will leave you with memories to last a lifetime. Book your reservations now and prepare for an enchanting evening on the Seven Seas Lagoon, where dreams truly do come true.