A Glimpse At The 2023 Walt Disney World Holiday Entertainment
Reading Time:
3
minutes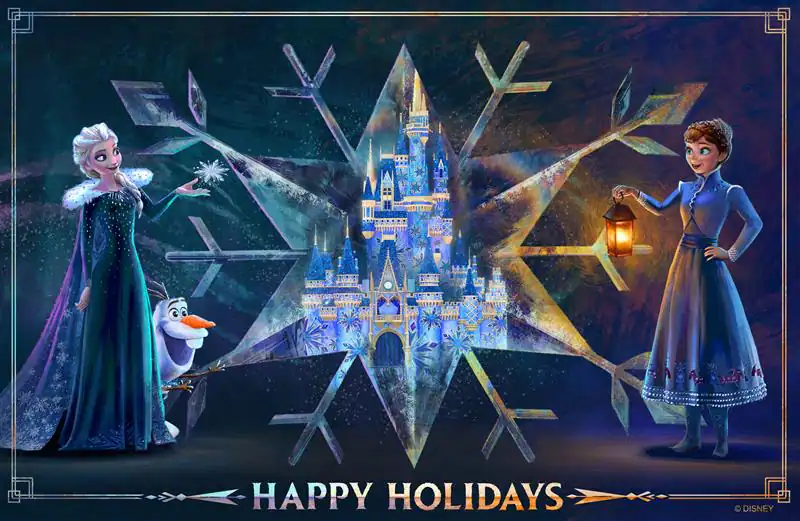 Step into a winter wonderland where dreams come true and holiday magic fills the air. As the holiday season approaches, Disney Parks is preparing to delight visitors with an array of enchanting experiences that will make cherished memories for years to come. From Frozen-inspired surprises to merry menageries and Santa's tropical escapades, the parks are gearing up for an extraordinary celebration. Join us as we unveil the captivating holiday offerings awaiting guests at Magic Kingdom, Disney's Animal Kingdom, EPCOT, Disney's Hollywood Studios, and Disney Springs.
Magic Kingdom
A Frozen Holiday Surprise For the first time in forever, a new Frozen-inspired entertainment experience is set to grace Magic Kingdom. Join Elsa, Anna, Olaf, Kristoff, and the adorable Snowgies in front of the iconic Cinderella Castle. Brace yourself for "Frozen Holiday Surprise," a spectacle that will illuminate the castle in a whole new way. Guests can experience this magical display during regular park hours and even during the enchanting Mickey's Very Merry Christmas Party.
Disney's Animal Kingdom
A Merry Menagerie Returns Embrace the spirit of the season at Disney's Animal Kingdom as the Merry Menagerie of winter animals makes a heartwarming comeback. These artisan-sculpted puppets will enchant visitors amidst the glowing holiday décor, adding a touch of whimsy and delight to the park.
EPCOT
A Festival of Traditions EPCOT is getting ready to celebrate the most wonderful time of the year with its beloved traditions. From November 24 to December 30, the "Candlelight Processional" will make a triumphant return as part of the EPCOT International Festival of the Holidays. Alongside this cherished event, guests can indulge in the joyous performances of spirited storytellers, musical acts, and talented performers. The tantalizing aromas of the Holiday Kitchens will fill the air, enticing visitors to savor the flavors of the world at the World Showcase.
Disney's Hollywood Studios
Yuletide Projections and Holiday Cheer The holiday spirit will shine brightly at Disney's Hollywood Studios. The yuletide projection show on The Hollywood Tower Hotel will return, filling the park with captivating visuals and heartwarming stories. At Toy Story Land, beloved characters like Woody, Jessie, and Buzz will don their festive attire, spreading cheer to all who encounter them.
Disney Springs
A Shopper's Paradise Immerse yourself in the enchantment of Disney Springs as you embark on a holiday shopping spree. Explore the dazzling décor while strolling through the Disney Springs Christmas Tree Stroll, where each tree tells its own unique tale. But the magic doesn't stop there – as you make your way to Town Center, prepare to be astounded by the sight of magical snowfall in Central Florida, transporting you to a winter paradise.
Santa Claus
Making Dreams Come True As Santa Claus travels the globe, he will make special appearances at all four Disney Parks, Disney Springs, and even at a Disney Water Park. From the snowy peaks of Magic Kingdom to the sun-kissed shores of the water parks, Santa will be dressed in his tropical holiday beachwear, ready to greet wide-eyed visitors and make their dreams come true.
This holiday season, Disney Parks are preparing to weave a tapestry of unforgettable moments for guests of all ages. Whether you find yourself captivated by the Frozen Holiday Surprise at Magic Kingdom, mesmerized by the Merry Menagerie at Disney's Animal Kingdom, wander through Disney's Hollywood Studios and witness the yuletide, or enthralled by the timeless traditions at EPCOT, Disney's holiday enchantment knows no bounds.