It's Splash-tastic Adventure: Disney Treasure AquaMouse Attraction Revealed!
Reading Time:
2
minutes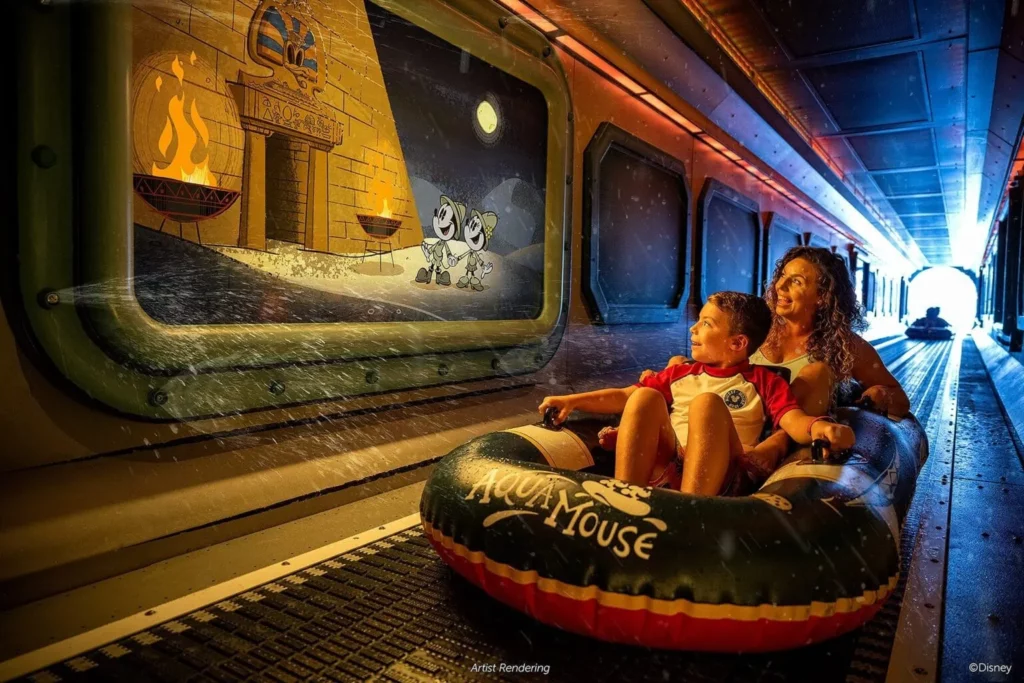 Ahoy, fellow Disney Cruise fans! If you're as excited as I am about all things Disney Cruise Line, then you're in for a treat. New details have just surfaced about the Disney Treasure AquaMouse attraction, and trust me when we say it's going to be a splash-tastic adventure! So, grab your virtual life jackets, and let's dive into the exciting world of AquaMouse: Curse of the Golden Egg.
AquaMouse: Curse of the Golden Egg – Your Sea Adventure Awaits!
Disney Cruise Line is known for creating magical experiences at sea, and AquaMouse is no exception. This unique attraction will immerse you in the whimsical world of Mickey Mouse animated shorts. Picture this: you're suspended high above the upper decks, surrounded by stunning ocean views, and gripping the handles of a two-person ride vehicle. You're about to embark on a 760-foot journey through winding tubes that promise exhilarating twists and turns.
As you zoom through this aquatic wonderland, you'll be treated to breathtaking vistas of the endless sea and the majestic ship below. It's a journey that promises thrills and spills while keeping you enchanted by the ocean's beauty.
A New Storyline Unveiled: Join Mickey and Minnie's Zany Adventure!
Now, let's talk about the icing on the cruise ship cake – AquaMouse's brand-new storyline. Onboard the Disney Treasure, this attraction will take you on an unforgettable adventure alongside the beloved Mickey Mouse and Minnie Mouse.
In "AquaMouse: Curse of the Golden Egg," Mickey and Minnie find themselves in a delightful but slightly chaotic misadventure. They stumble upon an ancient temple, shrouded in mystery and legends of a legendary treasure. With the curiosity only our favorite mouse couple can muster, they embark on a quest to uncover the secrets hidden within this mythical temple.
As you journey with Mickey and Minnie, you'll be immersed in a captivating narrative filled with twists, turns, and, of course, a sprinkle of Disney magic. Expect the unexpected as you navigate the tunnels, all while feeling the thrill of the adventure in your two-person ride vehicle.
Prepare for a Disney Cruise Line Adventure Like No Other!
As a Disney Cruise fan, I couldn't be more thrilled about the AquaMouse: Curse of the Golden Egg attraction on the Disney Treasure cruise ship. With its breathtaking views, thrilling twists and turns, and a whimsical storyline featuring Mickey and Minnie, it's set to be a highlight of your Disney Cruise Line experience.
So, mark your calendars and get ready to set sail on this magical journey at sea. AquaMouse is sure to provide endless fun, laughter, and memorable moments. Stay tuned for more updates as we count down the days until we can all embark on this enchanting adventure together. Until then, keep that Disney spirit alive, and I'll see you on board the Disney Treasure!
Looking To Book Your Dream Disney Vacation?