UPDATE: New Restaurant Coming to EPCOT This Summer – Shiki-Sai: Sushi Izakaya
Reading Time:
4
minutes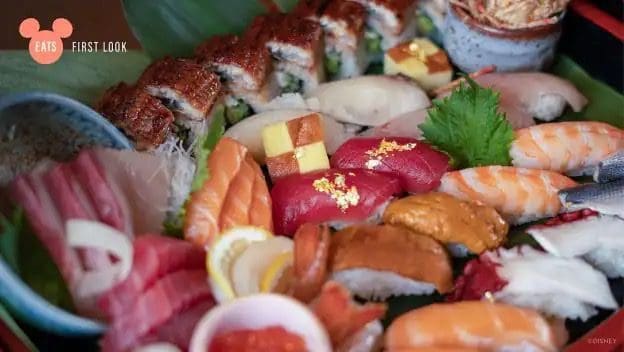 UPDATE: Disney has announced Shili-Sai in Epcot's Japan Pavilion will officially open on August 30, 2023. Stay tuned for an official menu release and a date when advanced dining reservations will be available.
Calling all foodies! If you're a fan of global cuisines and culinary adventures, then you'll be thrilled to hear about the latest addition coming to EPCOT's Japan pavilion – Shiki-Sai: Sushi Izakaya. Set to open its doors this summer, this table-service restaurant promises a sensational dining experience where flavors, traditions, and celebrations come together.
Step into Shiki-Sai, and you'll find yourself immersed in the essence of Japan's vibrant seasonal festivals. With each passing month, a new celebration is brought to life right at your table. From July's Tanabata, where colorful tanzaku wishes adorn the atmosphere, to September's moon-viewing dumplings, every unique festival experience is curated by a knowledgeable cultural representative from Japan. They will guide you through the customs and flavors, allowing you to savor each bite while creating unforgettable memories.
As you enter the restaurant, the ambiance itself is a reflection of Japan's rich festival culture. Hand-painted artwork and lanterns gracefully illuminate the space, showcasing the natural wonders that Japan is famous for. Shiki-Sai takes you on a journey beyond culinary delights, capturing the spirit of Japan's vibrant seasonal festivities.
Prepare your taste buds for a tantalizing array of Japanese delicacies. The extensive menu offers a wide selection of mouthwatering options, including sushi and teppan items. And that's not all – Shiki-Sai features an open sushi bar and grill, situated on the second floor of the Japan pavilion. From this elevated vantage point, you'll be treated to breathtaking views of EPCOT, the World Showcase Lagoon, and the awe-inspiring fireworks that light up the night sky.
Sushi enthusiasts will be captivated by the experience of watching skilled chefs meticulously prepare sushi right before their eyes at the sushi bar. This unique dining spot not only offers a feast for your taste buds but also mesmerizes you with a trellis inspired by the roof of Kyoto's Phoenix Hall. The combination of visual splendor and delectable cuisine creates an unforgettable dining experience.
Now, let's dive into some of the delightful dishes awaiting you at Shiki-Sai.
Whether you're a seasoned sushi aficionado or someone eager to explore new flavors, the menu at Shiki-Sai has something for everyone. Here are a few highlights from the sushi bar that will leave you craving more: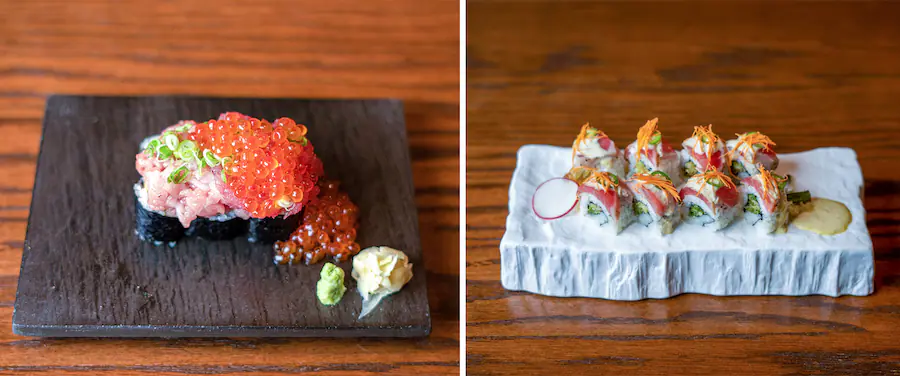 Kobore Sushi: True to its name, this dish overflows with flavors. Combining negi toro and nakaochi tuna with salmon roe and green onion, it's a harmonious blend of taste and texture.
Tokyo Negi Roll: Experience a burst of flavors as green onion tempura is rolled with tuna tataki and topped with jalapeno aioli, shredded carrot, and sliced jalapeno. This delightful roll is a must-try.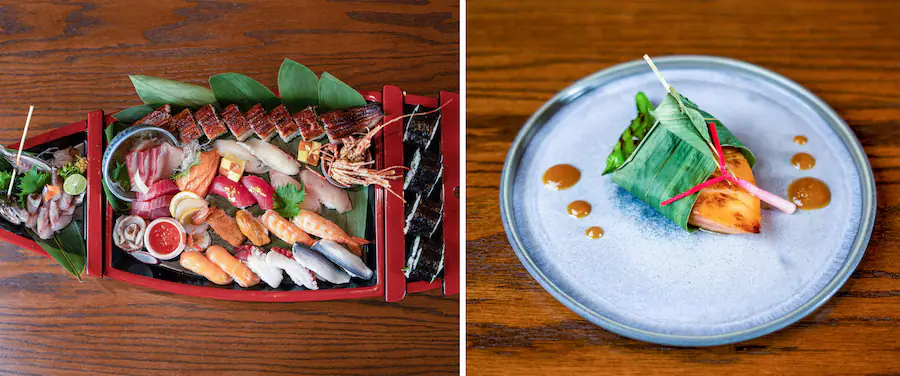 Funamori: Savor the spectacle of sashimi and sushi presented on a boat-shaped platter. The Funamori at Shiki-Sai is even served with the grandeur and boat procession of the famous Tenjin Matsuri!
In addition to the sushi bar, you'll have the opportunity to sample a variety of dishes from the world of Japanese Izakaya – a casual pub-style dining experience focused on sharing plates of food while enjoying drinks and conversations with friends. Izakaya cuisine is all about indulging in an assortment of small, flavorful dishes in a relaxed and social atmosphere. At Shiki-Sai, you can enjoy delights like Karaage Chicken, Salmon Misoyaki, and a refreshing Tomato Salad with Avocado.
But that's not all! The grill at Shiki-Sai will also offer a range of delectable options commonly found in Japanese cuisine. Among them, the Okonomiyaki steals the spotlight. This savory pancake, filled with shredded cabbage and bacon, topped with tangy okonomiyaki sauce, mayonnaise, aonori, bonito flakes, and pickled ginger, will take your taste buds on a delectable journey.
So, get ready to embark on a culinary adventure like no other at EPCOT's Shiki-Sai: Sushi Izakaya. With its diverse menu, festive ambiance, and stunning views, this new addition to the Japan pavilion is poised to become a haven for food enthusiasts seeking a remarkable dining experience. Summer can't come soon enough – let's gather around the table and celebrate the flavors of Japan!