Just Announced: 16 Food Studios Coming to the 2024 Festival of the Arts
Reading Time:
3
minutes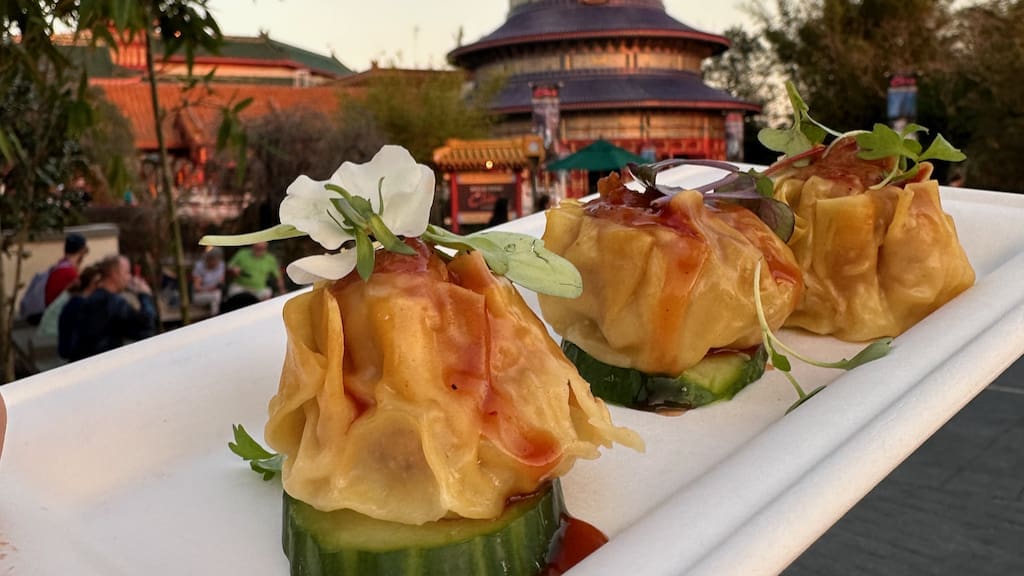 Hey Disney vacationers! I'm buzzing with excitement and just have to share something amazing coming up. Mark your calendars for January 12th through February 19, 2024, because EPCOT is hosting the Festival of the Arts, and it's shaping up to be an extraordinary event. Imagine a world where traditional artwork, performing arts, and – the star of the show – culinary arts come together. It's a few weeks at the start of the year that promise to be an absolute feast for the senses.
Now, let me give you a sneak peek into the 16 Food Studios, or as I like to call them, 'culinary art galleries', that will be gracing the 2024 EPCOT Festival of the Arts:
The Artist's Table (American Adventure Pavilion): Get ready to treat your senses to some artistically elevated comfort foods. Think dumplings, hummingbird cake, and more, all paired with a fine selection of beer or wine. It's like a warm hug for your taste buds!
Cuisine Classique (Near Test Track Presented by Chevrolet) – NEW!: This is where carefully crafted classics come to life. Beef Wellington, roasted mussels, and a choice of flavorful beer or cocktail – it's a gourmet's dream come true.
The Craftsman's Courtyard (Near Disney Traders): If you're into hearty meals, this is your spot. Imagine sinking your teeth into steak or pork belly sandwiches straight from the grill. My mouth is watering just thinking about it!
Deco Delights (Near Port of Entry): For those with a sweet tooth, this is a must-visit. Sleek desserts inspired by the Art Deco era await you, from the gilded glamour of the roaring 1920s to the bright pastels of Miami Beach.
The Deconstructed Dish (Near Port of Entry): This is where your favorite dishes get a playful makeover. A BLT and key lime pie like you've never seen them before!
El Artista Hambriento (Mexico Pavilion): Get ready for a fiesta of flavors with classic Mexican fare. Savory carne asada, chilled lobster with chipotle aïoli – it's a celebration on a plate.
Figment's Inspiration Station at the Odyssey: Art, Food, and Little Sparks of Magic: This is where you can sweeten your day with colorful treats. Rainbow cake, sugar cookies with a twist, and a variety of beers and hard ciders – it's like a party for your palate.
Goshiki (Japan Pavilion): Celebrate the Japanese culinary arts with dishes that showcase the five colors of Japanese cuisine. Sushi donuts, daifuku mochi, and sake – it's a cultural and culinary journey.
Gourmet Landscapes (Canada): Here, you'll find stunning dishes composed of the finest ingredients farmed and foraged from the land. Wild mushroom risotto, roasted bone marrow – it's a feast for the eyes and the stomach.
L'Art de la Cuisine Francaise (France Pavilion): Discover the delicious world of French treats and baked goods. From savory salmon to warm brie in a bread bowl, paired with French wine or a frozen martini, it's a Francophile's paradise.
L'Arte di Mangiare (Italy Pavilion): Indulge in Baroque cuisine, rich in color and dramatic in flavor. Fried mozzarella, pasta, and more – it's like a trip to Italy on a plate.
The Painted Panda (China Pavilion): Enjoy decorative cuisine inspired by magnificent Chinese art. General Tso's chicken shumai, char siu pork bun, bubble tea, and Chinese-inspired cocktails – it's a fusion of art and flavor.
Pastoral Palate (Germany Pavilion): Hearty dishes inspired by rustic Bavarian Folk Art await you here. Red wine-braised beef short rib, black forest cake – it's comfort food at its finest.
Pop Eats (Near Port of Entry): Delight in mouthwatering masterpieces inspired by captivating pop art. Tomato soup with grilled cheese – it's a classic with a twist.
Tangierine Café: Flavors of the Medina (Morocco Pavilion): Take your taste buds on a Moroccan adventure with grilled kebabs, stoned-baked Moroccan bread, and more. Pair it with hard cider or a chai tea mint mimosa for the full experience.
Vibrante & Vívido: Encanto Cocina (Between the Morocco & France Pavilions): Feast on authentic Colombian cuisine inspired by the Disney animated film Encanto. Empanada with chorizo, and mango cheesecake – it's a vibrant culinary celebration.
And that's not all! There are additional locations like the Refreshment Port near Canada, Refreshment Outpost, Funnel Cake stand, Joffrey's Coffee & Tea Company, and Swirled Showcase, each offering special menu items along with their regular fare.
I can't wait to experience the Festival of the Arts at EPCOT. It's going to be an incredible blend of art and culinary delights. Hope to see you there, indulging in the creativity and flavors of this spectacular event!
Looking To Book Your Dream Disney Vacation?
Meet the Author: Nate Bishop
I'm a die-hard Disney fan with 38 years of visits under my belt, having stepped into Disney World 120+ times. Proud to be a Disney Annual Passholder, a Vacation Club member since '92, a Castaway Club Member, and a runDisney enthusiast. Oh, and I've graduated from the Disney College of Knowledge. Need Disney insights or planning tips? I'm your guy!