Must-Watch Entertainment at Disney World: 8 Mind-Blowing Shows You Can't Miss!
Reading Time:
3
minutes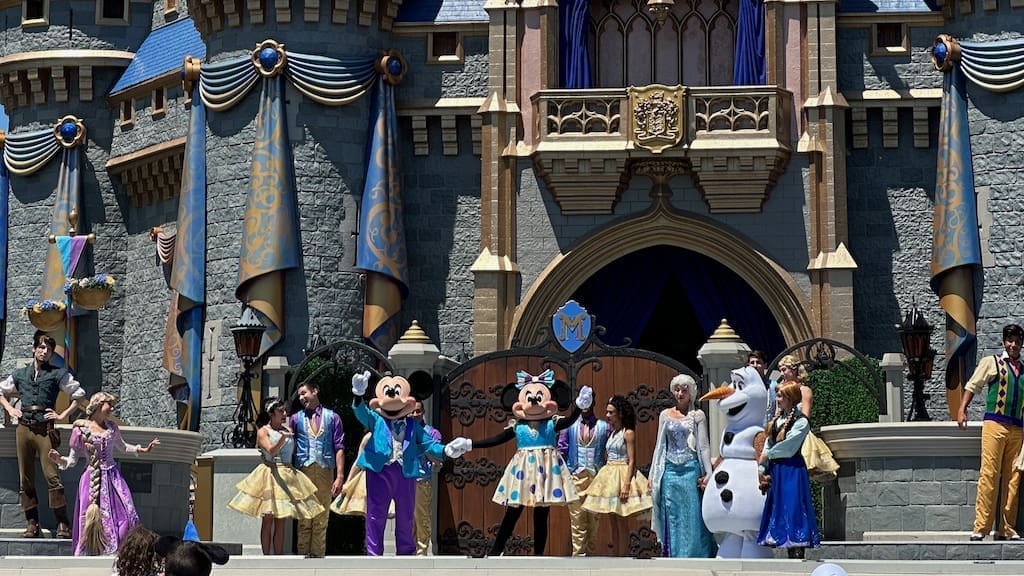 Hey there, fellow Disney vacationers! If you're gearing up for the adventure of a lifetime at Walt Disney World, I'm here to let you in on a secret that will make your experience go from "awesome" to "absolutely mind-blowing." You guessed it right – it's all about the must-watch entertainment at Disney World – the live shows! As a huge Disney fan, I'm thrilled to be your guide in uncovering the absolute must-see live entertainment that's ready to whisk you away into a world of wonder.
The Lion King: A Roaring Success
Hakuna Matata, my friends! If you're ready to journey to the Pride Lands, then "The Lion King: A Celebration of the Festival of the Lion King" is the cherry on top of your Disney sundae. Imagine this: mind-boggling acrobatics, heart-soaring music, and your beloved characters belting out their hits. I remember the first time I watched Timon and Pumbaa groove like nobody's watching – I couldn't help but bust a move too!
Fantasmic!: Where Fantasies Come Alive
Now, let me spill the beans – there's a show that turns Mickey Mouse into a sorcerer, creates a stage on water, and summons Disney villains that'll give you goosebumps. It's none other than "Fantasmic!" and let me tell you, it's like stepping into Mickey's wildest dreams. When those fireworks illuminate the night sky and Mickey emerges victorious over the villains, I'll admit, a tear or two might've escaped my eyes.
Finding Nemo – The Big Blue…and Beyond: Undersea Enchantment
Get ready to plunge into an undersea wonderland with "Finding Nemo – The Big Blue…and Beyond." As someone who once dreamed of being a marine biologist (yep, that was me!), this show reeled me in from the get-go. The way they use puppetry and catchy tunes to narrate Nemo's heartwarming journey is pure genius. Just try not to hum "Just Keep Swimming" for the rest of the day – I double-dare you!
Beauty and the Beast – Live on Stage: A Classic Tale
Ah, "Beauty and the Beast" – a tale as old as time that's been close to my heart since I was knee-high to a grasshopper. Watching Belle and the Beast waltz across the stage in "Beauty and the Beast – Live on Stage" is like reuniting with an old friend. The sets are so enchanting that you'll feel like you're in the pages of a storybook. And let me tell you, when that iconic ballroom scene comes to life, you'll believe in magic all over again.
Festival of Fantasy Parade: Dreamy Procession
Listen up, parade lovers – "Festival of Fantasy Parade" is where the real magic comes to life. From the magnificent floats to the larger-than-life characters, it's a visual feast for your Disney-loving soul. I'll forever cherish the time I witnessed Maleficent as a fire-breathing dragon – now that's what I call a showstopper!
Mickey's Royal Friendship Faire: A Majestic Celebration
Okay, let's chat about BFFs – who doesn't adore a heartwarming gathering of friends? "Mickey's Royal Friendship Faire" is all about embracing diversity, fostering friendships, and, of course, showcasing some seriously rad Disney characters. I vividly remember when Rapunzel and Flynn Rider stole the spotlight with their charm and dance moves – I couldn't help but join in the clapping like an overenthusiastic fan.
Disney Junior Dance Party!: Kid-Friendly Delight
Got little ones in tow? "Disney Junior Dance Party!" is where the kiddos can groove alongside Mickey Mouse, Doc McStuffins, and more. I remember taking my niece here once, and her dance moves could give Beyoncé a run for her money. It's the perfect dose of kid-friendly fun that'll leave both parents and kiddos beaming from ear to ear.
First Time in Forever: A Frozen Sing-Along Celebration: Chillingly Unforgettable
And last but not least, let's talk about Olaf. Alright, Frozen fans, this one's for you! If you've been belting out "Let It Go" in the shower, then "First Time in Forever: A Frozen Sing-Along Celebration" is an absolute must. Step into the world of Arendelle as royal historians retell the icy tale of Elsa and Anna, complete with all the sing-along moments your heart desires. I'll admit, the first time I joined in a theater full of fellow Frozen enthusiasts, it was like being part of a harmonious choir of Disney magic.
Let the Magic Begin!
There you have it – your ultimate guide to the live shows that will redefine your Disney World vacation. From dancing with Mickey to belting out Frozen hits, each performance weaves a spell of enchantment that will resonate in your heart. So, go ahead, craft your itinerary, and brace yourself for the captivating spell of Disney's live entertainment. Your extraordinary journey into the world of magic is about to unfold!
Looking To Book Your Dream Disney Vacation?