NEW Tamu Tamu Drinks: Discover the Latest Sips
Reading Time:
2
minutes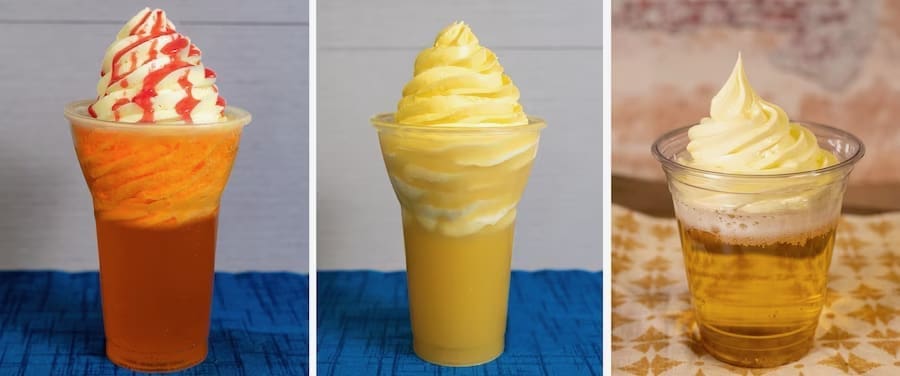 Hey there, fellow Disney fans! If you're anything like me, you've got a soft spot for the vibrant vibes of Africa at Animal Kingdom. And guess what? I've got some exciting news for you. Our beloved snack haven, Tamu Tamu Refreshments, nestled in the bustling Harambe Village, has just upped its game. Let's head out on an adventure and check out the new Tamu Tamu drinks!
Got a sweet craving? Tamu Tamu's got you covered. While they've always been known for their mouth-watering treats, they've just added four new delights to their menu. Let's dive in!
First on the list is the DOLE Whip Orange Soda Float, crowned with a luscious strawberry syrup. Imagine the tropical burst of pineapple, strawberry, and orange all in one sip. Yum! And if you're a fan of the classic DOLE Whip Float (like yours truly), you'll be thrilled to know it's still available. This iconic treat pairs DOLE Whip with DOLE pineapple juice, creating a pineapple paradise in a cup.
Now, for my fellow cocktail enthusiasts who are 21 and up, there's something special for you. You can now savor the DOLE Whip Float with a splash of Parrot Bay Coconut Rum. And come Oct. 11, get ready for the DOLE Whip Hard Cider Float, a tantalizing blend of DOLE Whip and ACE Pineapple Craft Cider.
So, the next time you're wandering through Animal Kingdom, make a pit stop at Tamu Tamu Refreshments and toast to the "New Tamu Tamu Drinks." Cheers!
Looking To Book Your Dream Disney Vacation?
Meet the Author: Nate Bishop
I'm a die-hard Disney fan with 38 years of visits under my belt, having stepped into Disney World 120+ times. Proud to be a Disney Annual Passholder, a Vacation Club member since '92, a Castaway Club Member, and a runDisney enthusiast. Oh, and I've graduated from the Disney College of Knowledge. Need Disney insights or planning tips? I'm your guy!