Beat the Disney World Crowds with These Expert Tips on Best Times to Visit!
Reading Time:
5
minutes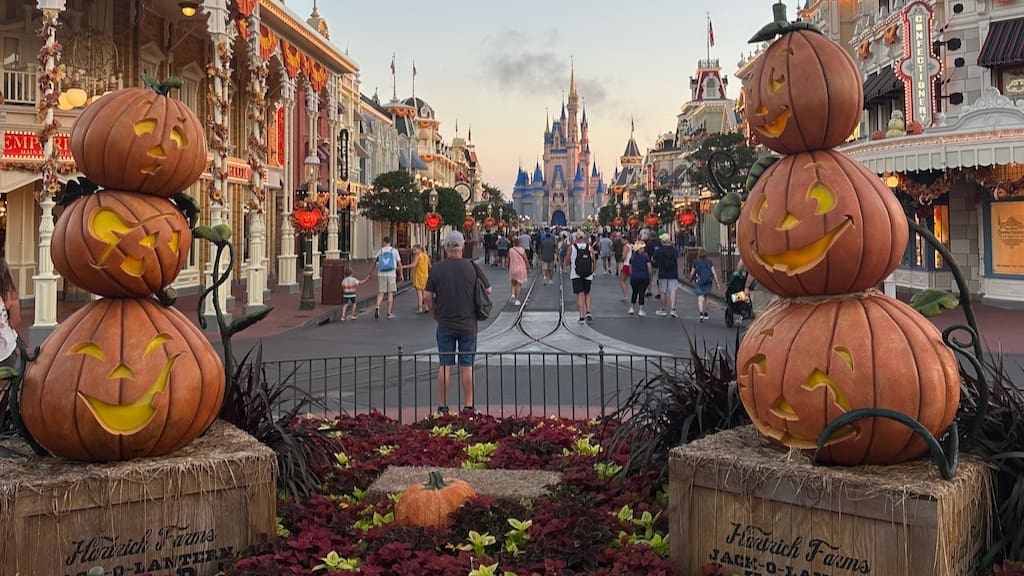 Hey there, fellow Disney fans! Welcome to the world of Disney! I'm your friendly Disney Vacation Planner, and I'm here to help you make the most of your visit by sharing tips on how to beat the crowds. As someone who practically lives in Disney World, I understand that navigating the sea of people can be challenging. But fear not, we're here to uncover the secrets of beating Disney World crowds!
Understanding Crowd Levels
It's a Crowded World After All
Let's start with the basics. Crowds won't make or break your Disney experience, but they will definitely impact your visit. The magic of Disney is best enjoyed when you're not shoulder-to-shoulder with other park-goers. So, how does Disney manage its crowds? Well, they use a pricing and promotion strategy to spread attendance throughout the year. Definitely reference a Disney World crowd calendar when planning your trip.
My Experience
I remember my first visit to Disney World during peak season(Christmas week). It felt like everyone on Earth had decided to visit at the same time! Lines for rides were crazy long, I'm talking 3+ hours for some of the most popular attractions, and even getting a reservation at a restaurant was a battle. Trust me; you want to avoid this if you can!
The Magic of Off-Peak Seasons
Embrace the Off-Peak Bliss
Now, onto the good stuff – off-peak seasons. This is where the true magic lies. Think of it as your golden ticket to shorter lines, cooler weather, and an all-around more enjoyable Disney experience.
The Benefits of Timing
Picture this: it's September, and you're strolling down Main Street, U.S.A. The sun is shining, and the lines for Space Mountain and Big Thunder Mountain are shorter than a Dumbo-sized queue. That's the kind of Disney experience you'll have during off-peak times.
The Holiday Spirit Without the Crowds
One year, I planned a trip for early December, just before the holiday madness hit. The parks were decked out in holiday decorations, and it was like being in a winter wonderland. But the best part? The crowds were thin, making it easy to enjoy every bit of Disney's holiday magic.
Shoulder Seasons: A Sweet Spot
What Are Shoulder Seasons?
Shoulder seasons are the sweet spot between peak and off-peak times. These periods offer a fantastic balance of manageable crowds and pleasant weather. For Disney World, two great shoulder seasons are September and early December.
An Early September Delight
Let me share a personal experience about early September. The parks were beautifully adorned for the spooky season, and it felt like stepping into a pumpkin spice delight. Fall was in the air, and the Magic Kingdom was filled with Mickey pumpkins. The best part was that the crowds hadn't swelled yet for the October rush, so I could savor all the fall goodness, from the Wine and Food Festival at EPOCT to Mickey's Not So Scary Halloween Party at the Magic Kingdom. All without the hustle and bustle.
Weekdays vs. Weekends
The Midweek Magic
When planning your Disney adventure, keep in mind that weekdays are your allies. Weekends tend to attract locals and tourists alike, leading to larger crowds and longer wait times. Opting for a midweek visit can make a world of difference. This especially true around holiday weekends, as may people play weekend getaways during these times.
A Word of Wisdom
I've tried both weekday and weekend visits, and let me tell you, weekdays are the way to go. You'll have a smoother time navigating the parks, securing dining reservations, and experiencing your favorite attractions. The earlier in the week, the better. As the weekend approaches you'll notice the crowds pick up.
Early Mornings and Late Evenings
Early Birds Get the Shortest Lines
One of my favorite Disney strategies is to take advantage of Early Entry, which allows Disney resort guests to enter the parks 30 -minutes early. Arriving early gives you a head start on popular attractions while most visitors are still hitting the snooze button.
The Nighttime Charm
Disney parks take on a whole new enchantment at night. The evening hours tend to be less crowded, making it the perfect time to soak in the magical ambiance, enjoy nighttime shows, and hop on some rides with shorter wait times. Plus, you tend to find cooler weather.
The Importance of Park Hopper Tickets
Hopping to Beat the Crowds
Park Hopper tickets are your golden ticket to experiencing multiple parks in one day. This flexibility is invaluable when it comes to avoiding crowds. Here's how it works.
My Park Hopping Trick
One of my Disney tricks is to start the day in a less crowded park and then hop to a more popular one in the evening. For instance, I might begin at Epcot (often less crowded in the morning) and end my day at Magic Kingdom, which tends to draw the biggest crowds. But, as the night falls the crowd will slowly dwindles. Especially, right after the fireworks. This is the perfect time to get in a few of the popular attractions, like Seven Dwarfs Mine Train.
Special Events and Promotions
Discover the Disney Extra
Disney World hosts special events and promotions throughout the year, and these can significantly impact crowd levels. It's like sprinkles on top of your Disney sundae! Make sure to check them out here, when planning your trip.
Spooky Fun and Festive Food
Let's talk about Mickey's Not-So-Scary Halloween Party and Epcot's Food and Wine Festival, two of my favorites. These events draw crowds, but they also offer unique experiences you won't find during regular park hours. My tip? Plan your visit around these events if they align with your interests. If you're looking for extremely low Magic Kingdom crowd levels, look to go early on days with a party. The crowds do not pick-up until 4 pm these days.
Planning Ahead
The Blueprint for Success
Advanced planning is the key to a stress-free Disney trip. Don't be caught without a plan; it can lead to longer waits and missed opportunities.
Personalizing Your Itinerary
I like to create a personalized itinerary for each day. This helps me prioritize must-do attractions and dining experiences while allowing for some spontaneity. If you're working with a Disney Vacation Planner, like myself, we'll help put together an optimal plan at no additional charge.
Staying Flexible
Lastly, remember that even with the best planning, things can change. Be prepared to adapt to unexpected changes in your schedule. It's all part of the Disney adventure!
So, there you have it—your guide to optimizing your Disney World vacation for low crowds. Choosing the right time to visit and implementing these strategies will make your trip unforgettable. Remember, a Disney Vacation Planner like myself can provide personalized guidance and ensure your Disney dreams come true. Here's to a magical and crowd-free adventure at Walt Disney World!
Looking To Book Your Dream Disney Vacation?