EPCOT Festival of the Arts: 2024 Disney on Broadway Concert Series Line-Up
Reading Time:
3
minutes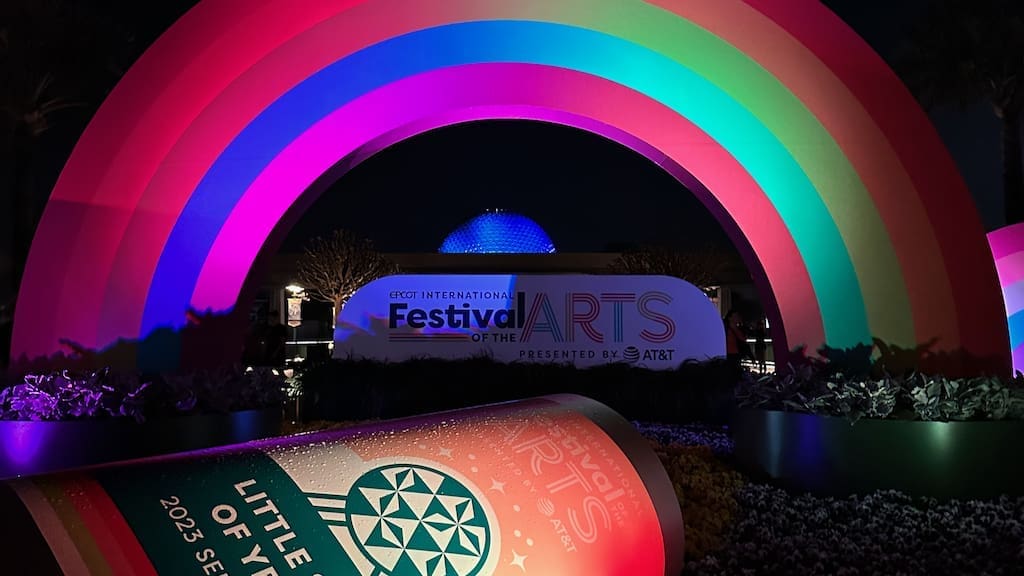 Hey Disney vacationers! I'm super excited to share some magical news with all my fellow Disney and Broadway fans. Guess what? Disney World just dropped the full lineup for their much-anticipated Disney on Broadway Concert Series at the 2024 EPCOT International Festival of the Arts. And let me tell you, it's going to be a showstopper!
Broadway Magic in the Heart of EPCOT
So, here's the scoop: some of the most dazzling stars from Broadway are making their way to Walt Disney World. We're talking about the Disney on Broadwa Concert Series, and it's returning to EPCOT with not one, not two, but three shows daily throughout the festival. Can you believe it?
And get this – for the first time ever, two original leading ladies from our favorite frosty kingdom (yes, I'm talking about "Frozen") will be performing together. It's happening right on the America Gardens Theatre stage. I'm already getting chills thinking about it!
A Lineup That's Pure Magic
For all you "Aladdin" fans out there (like me), there's something special in store for you too. And of course, the performances will feature songs from many of our beloved Disney shows. These stars have a way of bringing those magical Disney moments to life, right before our eyes.
Here's who you can expect to see:
Caissie Levy and Patti Murin from "Frozen": They'll be there on Jan. 12, 14, 15, 18, 20, 22, 23. I'm already marking my calendar!
Heidi Blickenstaff (from "Freaky Friday" and "The Little Mermaid") and Gavin Lee (from "Mary Poppins" and "Beauty and the Beast"): Catch them on Jan. 13, 16, 17, 19, 21, 24.
Ashley Brown (from "Mary Poppins" and "Beauty and the Beast") and L. Steven Taylor (from "The Lion King"): They're performing on Jan. 26, 28, 29; Feb. 1, 3, 5, 6.
Kissy Simmons (from "The Lion King") and Josh Strickland (from "Tarzan"): Their dates are Jan. 27, 30, 31; Feb. 2, 4, 7, 8.
Mandy Gonzalez (from "Aida") and Michael James Scott (from "Aladdin" and "Tarzan"): They'll be there Feb. 9, 11, 12, 15, 18, 19.
Bradley Gibson (from "Hercules" and "The Lion King") and Shoba Narayan (from "Aladdin"): Catch them Feb. 10, 13, 14, 16, 17, 19.
More Than Just Songs
But wait, there's more! Showcase Plaza is turning into a hub of artistic talent with musicians, live painting, and even acrobatic feats that defy gravity. It's like a kaleidoscope of performances every single day.
Dine and Watch in Style
And for those who want to make sure they get the best seats, Disney on Broadway Dining Packages are opening up on Dec. 19, 2023. You can choose from eight amazing EPCOT restaurants like Akershus Royal Banquet Hall, Biergarten Restaurant, and more. These packages are a game-changer for ensuring you get priority seating for your favorite shows. here's the full list of restaurants:
Akershus Royal Banquet Hall
Biergarten Restaurant
Coral Reef Restaurant
Garden Grill Restaurant
Rose & Crown Dining Room
Le Cellier
Spice Road Table
Regal Eagle Smokehouse (same-day, in-person walk-up packages only)
Mark Your Calendars
So, if you're as excited as I am, make sure to check out DisneyWorld.com or chat with your Disney Vacation Planner for more details. Remember, these packages go on sale starting Dec. 19. Don't miss out!
I can't wait to see these performances and immerse myself in the world of Disney on Broadway. It's going to be an unforgettable experience, and I hope to see some of you there! Let's get ready for a journey filled with songs, stars, and the enchantment of Disney and Broadway combined.
Looking To Book Your Dream Disney Vacation?
Meet the Author: Nate Bishop
I'm a die-hard Disney fan with 38 years of visits under my belt, having stepped into Disney World 120+ times. Proud to be a Disney Annual Passholder, a Vacation Club member since '92, a Castaway Club Member, and a runDisney enthusiast. Oh, and I've graduated from the Disney College of Knowledge. Need Disney insights or planning tips? I'm your guy!