Fort Wilderness Cabins Update: The Next Chapter of DVC Resorts!
Reading Time:
2
minutes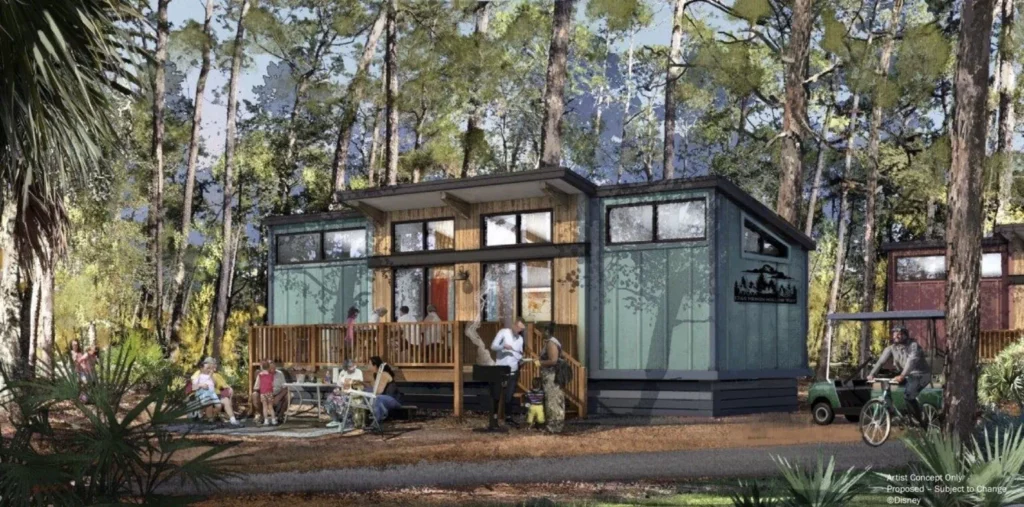 Hey, Disney Vacation Club Members! There's some exciting news bubbling up from the heart of the Walt Disney World. I've got a Fort WIlderness Cabins update for you on the latest development of the project. So, if you've been waiting for an update, grab a cup of cocoa, and let's dive right in.
Disney Vacation Development Inc. is on the move! They've submitted an application to start selling timeshare pionts for the brand-new Cabins at Disney's Fort Wilderness Resort. While the application is still under review, if everything goes according to plan, we're looking at a whopping 363 units available. That's 18,876 weeks of magical vacation time! 🌟
What's Changing?
The Fort Wilderness Resort is spread across a breathtaking 750-acre woodland – truly a serene escape! And now, it's about to get even better. There project will bring in over 350 new cabins to replace the older ones. Don't get me wrong, the existing cabins have created countless wonderful memories, but it's time for a magical makeover.
The good news doesn't stop there! The fresh designs will take a cue from the beautiful surroundings and the iconic Disney storytelling that we all know and love. Every new cabin is set to be a standalone unit, comfortably fitting up to six adults, complete with a bedroom, bathroom, living room, full kitchen, and a private patio. And guess what? Some of these cabins might even be open to our furry friends.
Eco-friendly AND Magical? Yes, please! 🌿✨
The new designs will not only be sleek and modern but also eco-friendly. Disney's planning to build on the existing cabin footprints and is looking to incorporate more energy-saving features. A win-win for everyone and Mother Nature!
More than Just a Stay!
Remember, staying at Fort Wilderness isn't just about the cabins. Located right in the epicenter of all the Disney happenings and just a boat ride away from the Magic Kingdom, it's an experience in itself. Whether you're horseback riding at the revamped Tri-Circle-D Ranch, trying your hand at fishing, enjoying the walking trails, or singing your heart out at Chip 'n' Dale's Campfire Sing-A-Long, there's something for everyone. And let's not forget the Hoop-Dee-Doo Musical Revue – a rootin' tootin' dining and entertainment extravaganza! If camping's more your style, don't fret. Campsite accommodations are still on the menu.
Looking Forward
The grand opening of The Cabins at Disney's Fort Wilderness Resort – A Disney Vacation Club Resort is slated for 2024. Marking it as the 17th Disney Vacation Club resort. As for more juicy details and sales info, stay tuned! I'll keep my ears to the ground and bring you updates as soon as they roll in.
Happy travels, Disney fans! Here's to more magical moments and memories in the making.
Looking To Book Your Dream Disney Vacation?
Meet the Author: Nate Bishop
I'm a die-hard Disney fan with 38 years of visits under my belt, having stepped into Disney World 120+ times. Proud to be a Disney Annual Passholder, a Vacation Club member since '92, a Castaway Club Member, and a runDisney enthusiast. Oh, and I've graduated from the Disney College of Knowledge. Need Disney insights or planning tips? I'm your guy!