Indulge in the Flavors of the Crescent City at Tiana's Palace – Opening September 7, 2023!
Reading Time:
3
minutes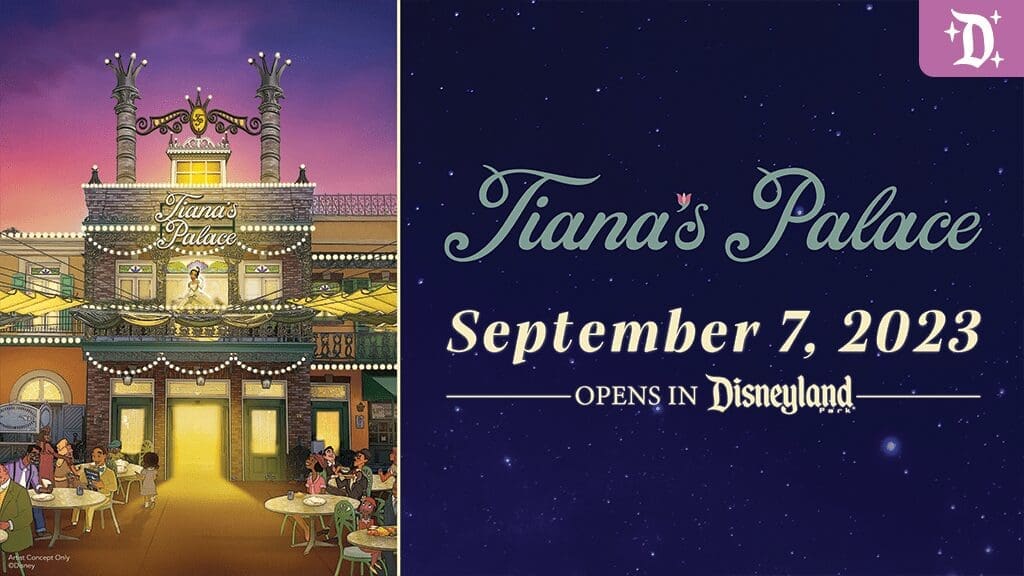 Hey there, Disney fans! Grab your Mickey ears and prepare your taste buds for an enchanting culinary adventure, because Tiana's Palace is coming to Disneyland Park on September 7, 2023! If you've been craving a taste of that special Disney magic combined with the flavors of the Crescent City, you're in for a treat. Inspired by the heartwarming tale of "The Princess and the Frog," Tiana's Palace is set to become a must-visit spot for Disney fans and foodies alike.
So, what's the scoop on this new restaurant, you ask? Well, let's dive into all the exciting details!
A Royal Reimagining
Imagine strolling through New Orleans Square and stumbling upon the gleaming marquee that reads "Tiana's Palace." It's not just any restaurant; it's a tribute to the spirited Princess Tiana and her journey from the beloved Walt Disney Animation Studios film. The vibes are all about embracing the elegance of the Crescent City, with a hint of the whimsical flair that makes Disney, well, Disney.
Upon entering, you'll be welcomed by vibrant shades of Mardi Gras, as you settle in at yellow tabletops and cozy vanilla-colored chairs. The play of emerald green wrought iron railings and yellow-and-green awnings conjures up memories of Tiana's iconic ball gown. It's like stepping into the movie!
A Dash of Nostalgia
The magic doesn't stop at the decor. The interior of Tiana's Palace is sprinkled with references to the film, creating an immersive experience that truly transports you to Tiana's world. A larger-than-life bayou mural sets the scene, while lilies, frog porcelains, and cherished mementos like Tiana's father's gumbo spoon adorn the space.
For those of you who appreciate the backstory, keep an eye out for letters from Tiana's father and neighbors, as well as a heartwarming childhood photo of our beloved princess herself.
From the Silver Screen to Real Life
Here's a fun tidbit for you: the design of Tiana's Palace in the film was inspired by the French Market Restaurant (the previous restaurant located where Tiana's Place will be) in New Orleans Square at Disneyland Park. The iconic silhouette featuring a wheelhouse and smokestacks was brought to life by Disney Imagineers, creating a truly magical full-circle moment.
Culinary Delights Fit for Royalty
Now, let's talk about the main event: the menu! Tiana's Palace promises to tantalize your taste buds with dishes that pay homage to Tiana's story and the vibrant flavors of New Orleans. Get ready to indulge in a fusion of mouthwatering flavors and authentic Louisiana ingredients. And guess what? You'll be able to conveniently place your orders through the Disneyland app via mobile ordering, ensuring that you spend more time enjoying the food and less time waiting in line.
Stay tuned for an exclusive sneak peek of the full menu—coming your way very soon!
Mint Julep Magic Returns
As if the excitement couldn't get any better, the Mint Julep Bar is making its grand comeback alongside the grand opening of Tiana's Palace. So, sip on that iconic minty goodness as you take in the enchanting atmosphere.
Get ready to join the festivities at Tiana's Palace, where Disney magic meets New Orleans charm. Mark your calendars for September 7, 2023, and prepare for a culinary adventure fit for royalty. Until then, keep your eyes peeled for more updates and that oh-so-tempting menu reveal. Laissez les bon temps rouler!