Save Valuable Time with These Mickey's Not-So-Scary Halloween Party Wristband Distribution Tips!
Reading Time:
3
minutes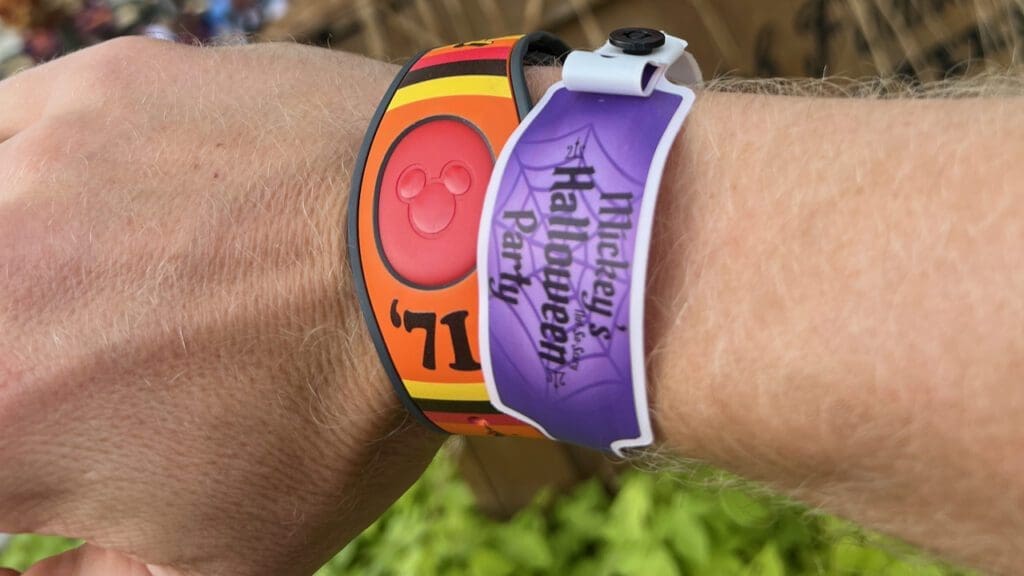 Hey there, fellow Disney vacations! If you're gearing up for the spooktacular Mickey's Not-So-Scary Halloween Party, you're in for a treat – and I'm not just talking about the candy! There's a nifty trick to dodge the hefty lines at Magic Kingdom's front gate and find a Mickey's Not-So-Scary Halloween Party wristband distribution spot inside the park. Stick around as I dive into the juicy details on these in-park wristband distribution spots and, of course, which ones to aim for.
Pro Tip: Head to your first Character Meet 'n Greet after picking up your wristband
Getting the Party Started
Alrighty, let's kick things off with the basics that cover all three wristband distribution areas. These entrances open around 4 p.m., but here's the real scoop – you can start queuing up once they're set up. However, with a bit of strategy, you won't be chilling for long. Plus, any of these three spots beat the main gate wait by a mile (this does require you to have a regular park ticket for the Magic Kingdom on the day of your party, a park ticket with the hopper option, or an annual pass). When you're ready to check in, just make sure you have your event ticket handy, whether it's a trusty paper ticket or the super convenient MagicMobile on your phone or watch. And guess what? At check-in, you'll score a sweet trick-or-treat bag loaded with an event guide map and even some jumbo M&M's to munch on. Oh, and of course, the star of the show – your event wristband!
Top Spots to Score Your Wristband
Now, onto the real deal – the three areas for the Mickey's Not-So-Scary Halloween Party wristband distribution. Here's the scoop on each one:
Fantasy Faire (Near Mickey's PhilharMagic, Fantasyland)
This hidden gem near Mickey's PhilharMagic in Fantasyland is the way to go if you're aiming to meet the Seven Dwarfs or the beloved Winnie the Pooh & friends. It's like the Goldilocks of wristband spots – not too crowded and not too quiet. Plan for a 5-10 minute wait when the doors open.
Tortuga Tavern (Near Pirates of the Caribbean, Adventureland)
Adventureland explorers, this one's for you! The Tortuga Tavern wristband haven, right across from Pirates of the Caribbean, is your best bet if you're less about the rope drop action and more about lower wait times. You'll be in and out with your wristband in less than 5 minutes, leaving you more time for the good stuff.
Former Stitch's Great Escape (Near Monsters Inc. Laugh Floor, Tomorrowland)
Hold onto your Mickey ears, because this is where things get intense. The Tomorrowland distribution zone, hanging out near Monsters Inc. Laugh Floor and the former Stitch's Great Escape, is the hotspot for wristbands. But beware – the lines are no joke. During some parties, the crowd was spilling into Tomorrowland's walkways, and things kicked off even earlier due to the demand. If you're not up for battling the masses, it might be worth giving this spot a pass.
Time to Get Your Party On!
So there you have it, fellow Disney fans! A few insights into the world of Mickey's Not-So-Scary Halloween Party wristband distribution. Armed with this knowledge, you're ready to maximize your fun and minimize your wait times. Whether you're a Fantasyland explorer, an Adventureland aficionado, or a Tomorrowland thrill-seeker, there's a wristband spot just for you. Happy haunting, and may your candy bags be ever full and your wristbands secure!