Exciting News: Big Plans for New Rides and Expansions as Part of DisneylandForward
Reading Time:
2
minutes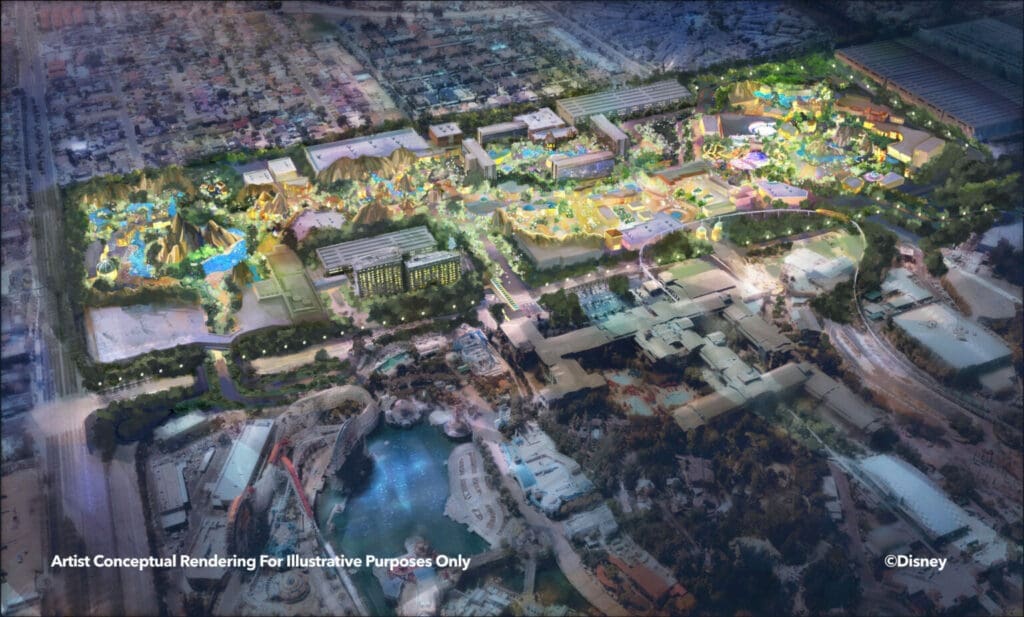 Hey there, Disney fans! I've got some thrilling news that'll make you want to start packing your bags and planning your next magical adventure to the Happiest Place on Earth. According to some fresh info from the City of Anaheim, Disneyland is cooking up some seriously awesome plans for their theme parks, Disneyland Park and Disney California Adventure. Hold onto your Mickey ears, folks, because this is big!
Now, before you start doing your happy dance, we've got to keep it real and tell you that these plans are not set in stone just yet. In fact, they're more like a big, bold dream than a done deal. You see, Disneyland is calling this grand vision the "DisneylandForward" project, and it's basically their way of asking the city, "Can we pretty please have some more room to build amazing rides and lands?" So, don't get too carried away with specifics just yet.
But hey, don't let that dampen your Disney spirit because the documents recently filed with the city are dropping some tantalizing hints about what Disneyland could have up its magical sleeves. Instead of going all Sherlock Holmes and trying to decode every little detail, let's keep it simple and focus on the big picture.
So, what's the big picture, you ask? Well, hold onto your Mickey-shaped ice cream bars because I'm talking about over a dozen new attractions! Yep, you read that right – more than 12 thrilling rides and experiences that could be in the cards if the city gives Disneyland the green light to expand its horizons. And that's not all; we're talking about not just rides but also some awesome shows and even improvements to the existing hotels.
Now, I know you're probably bursting with curiosity, wondering what these new attractions might be. Are we going to see a Marvel-themed roller coaster? A Star Wars water ride, perhaps? Maybe a Frozen castle that magically turns you into an ice queen? Well, your guess is as good as mine at this point, but one thing's for sure – the folks at Disneyland are dreaming big, and I'm loving every bit of it.
So, what's the takeaway from all this excitement? Disneyland is setting its sights high, and it's up to the city to say, "Yes, go ahead and make our dreams come true!" While we eagerly await more details and keep our fingers crossed for the green light, one thing is certain: the magic of Disneyland is about to get even more magical.
Stay tuned, Disney fans, because the future looks absolutely enchanting, and I'll be right here to bring you all the latest updates as the adventure unfolds. Until then, keep that Disney spirit alive, and don't forget to share your thoughts and speculations with your fellow Disney fans. The magic continues!
Looking To Book Your Dream Disney Vacation?